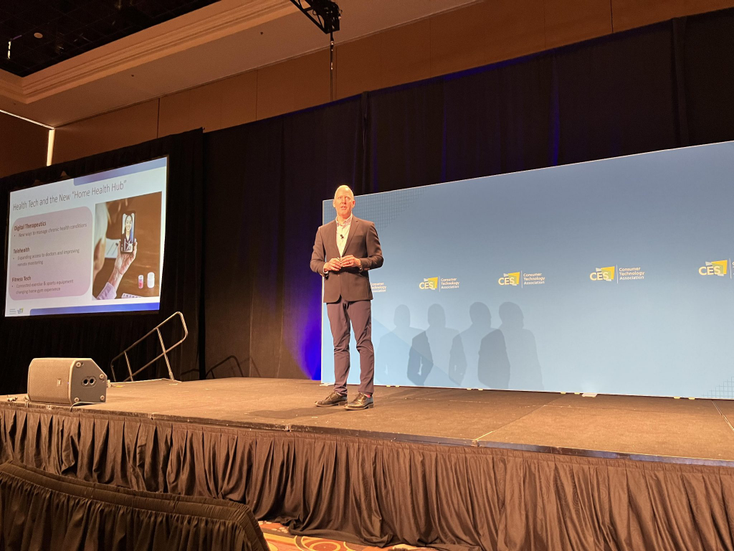 Steve Koenig, Consumer Technology Association's vice president of research.
Informa
Total U.S. consumer technology revenue in 2023 is projected to reach $485 billion, according to a new forecast released by the Consumer Technology Association (CTA) at CES this week.
The majority (69%) comes from hardware with the remainder from services, according to the forecast, which was part of the CES 2023 Technology Trends Update presented by Steve Koenig, CTA vice president of research.
The next generation of online experiences, the metaverse of things (MoT) and the technology innovations fueling it, were highlighted as digital twins, virtual spaces, shared experiences and virtual scenarios.Koenig said highlights of transportation, one of the major themes of this CES, were the advancements of autonomous systems, the transformation of the in-vehicle experience and the evolution of the electrification ecosystem.In-vehicle enhancements coming were noted as screenification, voice control, retail and entertainment services and features as a service (FaaS) models.In health services, Koenig
sees new frontiers in innovation, including anytime virtual visits, remote patient monitoring, fitness and wellness platforms and access to online pharmacies.Koenig also spent some time detailing farming of the future, which is to include intelligent silos, drones and soil sensors, farming robots, connected farmers and satellite 5G connections. One major farming innovation was the John Deere fully autonomous tractor we wrote about at the last CES. That tractor is the CES Innovation Award winner in robotics this year.
This article was first published on
.
Read more about:
Enter Quantum Newsletter
To get the latest quantum computing news, advice and insight, sign up to our newsletter