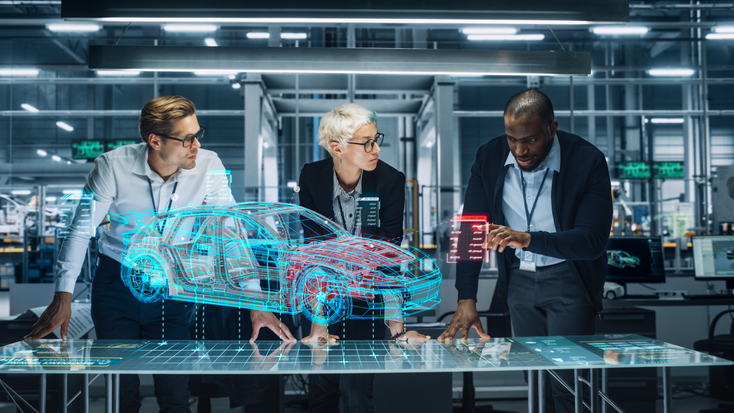 Quantum computing could improve the overall quality of vehicles.
Getty
Quantum computing holds the promise of solving several challenges for the automotive industry and its shift toward autonomy. These include optimizing sensors and their placement, improving product testing and enhancing data visualization for greater quality control.
Johannes Oberreuter, Luca Asproni and Alessandro Farace, members of the quantum computing practice at Italian digital services company Reply, explain what it offers.
Why the Automotive Industry is Investigating Quantum
It has been said that the cars we drive say a lot about us. Indeed, the automotive industry is in the midst of a period of rapid transformation, largely shaped by growing consumer demand for more sustainable and autonomous mobility solutions. The increased demand for electric cars reflects a desire to embrace more sustainable choices. At the same time, there is a huge drive to introduce more self-driving and connected vehicle solutions.
Manufacturers now face a huge challenge to review business models and identify
cost-effective solutions that allow for vehicle development and sustainable production. To help alleviate this burden, automotive players are exploring the promised potential of quantum computing as a means of accelerating the development process. Below are just a few examples of how quantum computing is poised to help the automotive industry become more sustainable and autonomous.
Precise and Efficient Sensing Solutions
Sensors are now a vital part of any modern automobile design, serving many different purposes. A modern car can have more than 70 sensors that monitor various aspects of the vehicle. They are instrumental in helping car manufacturers to bring models to market that are safer, more fuel efficient and more comfortable to drive.
Quantum computing will be key to gaining maximum effectiveness from these sensors. For example, when it comes to proximity sensors, quantum computing can be used to analyze many combinations of data to ensure sensing devices are efficiently positioned and adequately cover all critical areas while reliably detecting obstacles in different driving scenarios. This is becoming increasingly important as autonomous driving becomes more common. In addition, quantum computing can quickly calculate the exact number of sensors a vehicle needs which can lower costs and improve vehicle safety.
Testing new vehicles is often a very long, expensive and tedious process. However, it is a necessary one as it ensures that a vehicle can meet established industry standards, satisfies consumer use expectations, while incurring minimal warranty claims, and reaches a balance between customer demand and manufacturer profitability. After all, it is much cheaper to identify a problem with a product before mass production than it is to discover problems when the car is on the market and try to fix them afterward.
In this scenario, engineers are faced with a two-level combinatorial problem. To determine the optimal vehicle configuration, they must test all its components, but the tests must take place in such a sequence as to ensure the maximum possible number of tests for each product. Quantum computing is particularly useful because it promotes flexibility, efficiency, and scalability by identifying the lowest number of test vehicles and allowing the highest number of tests at the same time.
Data Visualization for Improved Quality Control
Currently, manufacturers rely on machine learning to create images during the production process that enable them to quickly visualize and identify defective parts, resulting in significant time and cost savings.
However, quantum computing can take this a step further. Quantum algorithms can be used to process large datasets much more efficiently. This provides a better representation of the relevant features and patterns in the data. Improved visualization of production data enables engineers to better spot weaknesses in production and creates the opportunity for greater personalization.
Quantum computing makes it easier to improve the overall quality of vehicles, whilst enabling companies to gain a competitive edge on the market. Automotive suppliers and manufacturers should be ready to apply quantum technology throughout the automotive industry, not just focus on manufacturing use cases.
They should consider the entire vehicle's lifespan, from design to deployment and vehicle operation in the field. IT architects must be aware of their tasks and design the optimized quantum infrastructure for applications that require high computing power. Integrating quantum computing into business processes means taking the quantum leap – a leap that automotive companies must be willing to explore.
Opinion by Johannes Oberreuter, Luca Asproni and Alessandro Farace, members of the quantum computing practice at Italian digital services company Reply.
Read more about:
Enter Quantum Newsletter
To get the latest quantum computing news, advice and insight, sign up to our newsletter