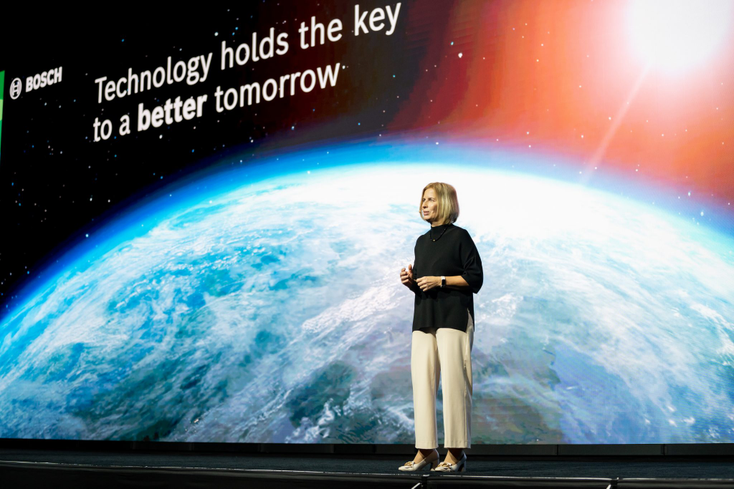 Tanja Ruckert, member of the board of management at Robert Bosch GmbH.
Informa
It makes many other things, of course, but at CES the company's top executives made it clear that sensors are, by far, Bosch's current thing.
Bosch has been in the sensor business for some time with its microelectromechanical (MEMS) sensors in around half of all smartphones. 
"We started production of MEMS sensors in 1995," said Tanja Ruckert, member of the board of management at Robert Bosch GmbH, one of the two co-presenters at the press conference here. "In the past five years, we have produced as many of these sensors as in all the years before that."
Bosch again had the first press conference of the day, as it typically does at CES, drawing a large crowd of journalists, also as it usually does at CES.
The company started making MEMS sensors more than 25 years ago and has since produced more than 18 billion, with an average of 22 of them in every car, according to the company.
One example of a new use case was pressure sensors in smartphones that can pinpoint the altitude
of the mobile device to within inches, allowing first responders to know what floor to go to in a high rise, said Mike Mansutti, Bosch president of North America, the other co-presenter at the media event.
Sensors can help cars, smartphones, fitness trackers, e-bikes and even headphones sense their environment. They also are a critical component for driverless cars.
As part of its sensor initiatives, Bosch introduced the Ride Share Companion, a sensor-based, smart camera device that enables the monitoring of the interior and exterior of a ride-sharing vehicle. Rides could use the device – it has a wireless SOS button – to contact Bosch associates in case of an emergency, such as an accident.
Bosch also announced that is working to develop quantum sensors in the future, with the potential to enable measurements significantly more precisely than those of current MEMS sensors. 
One potential use would be to facilitate more accurate diagnosis of neurological diseases. 
Bosch founded a startup last year to drive the commercialization of quantum sensors. Ruckert said that Bosch also was partnering with IBM on quantum computing,
For now, Bosch is focused on sensors, the engine of the Internet of Things. Its new marketing line: "Sensor tech like a Bosch."
This article was first published on
.
Enter Quantum Newsletter
To get the latest quantum computing news, advice and insight, sign up to our newsletter