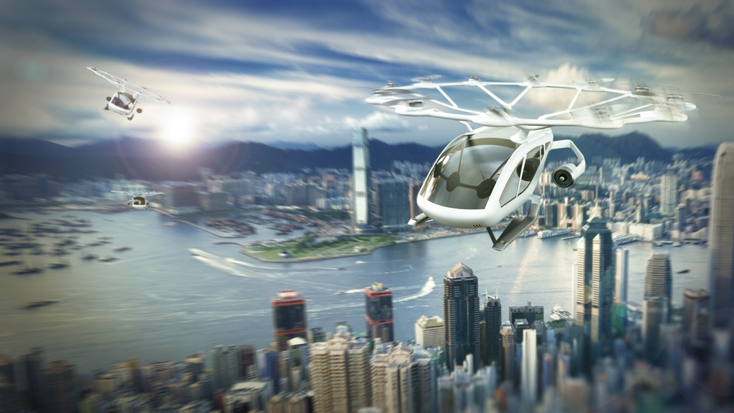 QX-PJ is a pilot experiment for developing optimized flight routes and scheduling a fleet of eVTOL vehicles.
Getty
Quantum computing company Pasqal is partnering with the Quantum Transformation Project (QX-PJ) to use quantum algorithms to optimize routes for low-altitude air traffic.
QX-PJ is a pilot experiment for developing optimized flight routes and scheduling a fleet of electric vertical takeoff and landing (eVTOL) vehicles using quantum computing technology. Japan's Sumitomo Corporation, Tohoku University and unmanned traffic management solutions specialist OneSky Systems
.
Pasqal will initially use its quantum computing solution with Quantum Sky, a quantum demonstration QX-PJ created of a futuristic three-dimensional traffic control system to keep hundreds of thousands of flying cars and drones safely traveling in the air.
Quantum Sky originally used a quantum annealing computer, which is well-suited to optimization problems but not as versatile as some other quantum computing paradigms. Pasqal will re-run the demonstration using its system that can perform as both an
analog quantum computer, which specializes in optimization calculations and as a digital-analog quantum computer, which has general-purpose processing capabilities. According to the company, this means its system can address more complex problems.
Electric aerial vehicles (EAV) are currently enjoying a surge of interest and are being tested and launched around the world. For example, Chinese eVTOL maker Ehang Holdings recently received permission to fly passengers in its unmanned EAV.
"Quantum computing holds the potential to revolutionize air transportation control and safety. Our neutral atoms technology is ideal for tackling optimization-related problems, which are intractable to classical supercomputers. With this new endeavor, in partnership with QX-PJ, we are pushing forward the capabilities of our hardware and moving a step forward to reach near-term quantum advantage," said Pasqal CEO Georges Reymond.
QX-PJ and Pasqal also plan to investigate other use cases that can benefit from using analog and digital quantum computers together, including quantum AI and causal search algorithms, which can find answers in unstructured data.
Read more about:
Enter Quantum Newsletter
To get the latest quantum computing news, advice and insight, sign up to our newsletter