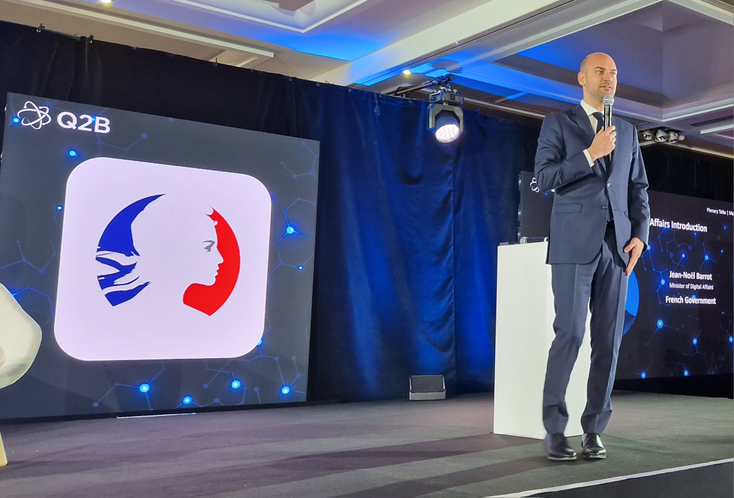 France's minister for digital affairs Jean-Noël Barrot.
Berenice Baker
France has committed to establishing a leading position in the international quantum technology race with a $1.3 billion investment spanning to 2027.
The investment in French quantum innovation was the focus of the opening address of the Q2B conference taking place this week in Paris, the first time the event has been held in Europe.
Delivering the keynote, executive director at French public sector investment bank Bpifrance Pascal Lagarde emphasized why quantum investment is big news.
"We are on the forefront of the development of deep tech entrepreneurship, which has a continuum of financing from a very early stage tech transfer to mature companies, and quantum technology for us is deep tech technology," he said.
"The ecosystem, the creativity and innovation in quantum technology in France are very strong compared to the rest of Europe. For example, the first funds to exclusively target quantum technology were launched in France in 2018."
The French quantum ecosystem currently consists of
more than 760 startups and SMEs and has raised $331 million, including from government investment. French physicist professor Alain Aspect, who won a Nobel prize for his research on quantum entanglement, co-founded Pasqal, one of Europe's biggest quantum computing companies, exemplifying France's success in transitioning quantum from research to enterprise.
France's minister for digital affairs Jean-Noël Barrot said that France has great ambitions to become an increasingly strong quantum nation in the years to come, and Aspect had a key role in that.
"He has been one of the pioneers that have helped grow a super-strong ecosystem in France, with state-of-the-art scientific research in our universities with financiers that grown very interested in the field of quantum," said Barrot.
One of Aspect's students, Christophe Jurczak, founded the venture capital fund Quantonation, which specializes in quantum startups. Barrot said the startup system is growing, and 50 startups are working in quantum today in France. Pasqal raised a $110 million in a funding round last month.
"If you're familiar with the quantum ecosystem in France, you know that our large corporations organize a variety of initiatives to boost quantum quantum-based solutions throughout the year," said Barrot. "We intend to help this ecosystem grow and become stronger and stronger, and this is the reason why President Macron decided to launch a national strategy for quantum with 500 million euros dedicated to the support of scientific research and training programs."
Barrot said quantum has even prompted the French government, which is often slow in implementing strategies, to act faster than on previous initiatives.
"In France, we sometimes have very ambitious strategies with a lot of money associated with them, but when it comes to deploying the money, sometimes it goes slower than what would have expected," he said. "For the national strategy for quantum, we're seeing the money being deployed and spent very quickly, which is evidence that there is the strength and appetite for the French ecosystem to grow in the years to come.
"We are going to keep supporting all the dimensions of the ecosystem—universities, financiers, startup companies, big corporates getting involved in the field of quantum—because we believe that quantum technologies will help solve the problems we have the hardest time solving today."
Read more about:
Enter Quantum Newsletter
To get the latest quantum computing news, advice and insight, sign up to our newsletter