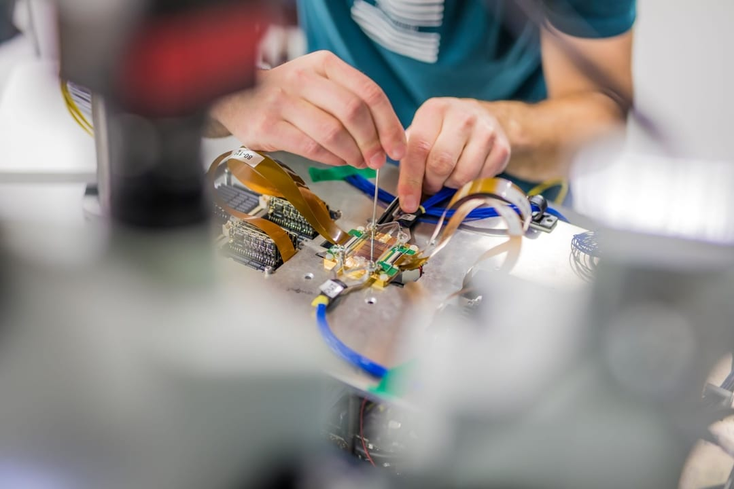 A QuiX photonic quantum processor
QuiX
Photonic quantum computing specialist QuiX Quantum has agreed to build a photonic universal quantum computer for the German Aerospace Center (DLR). The $13.5 million (€14 million) deal represents the first commercial sale of a quantum computer based on light.  
The company will construct ‍8- and 64-qubit photonics quantum computers using existing technologies related to its photonic processor production. Production plans call for the quantum computer to incorporate photonic sources, detectors and a feedforward. 
QuiX Quantum plans to work jointly with DLR's Quantum Computing Initiative over the next four years to help customize its development. DLR has experience in quantum photonics and has already created a dedicated space for QuiX Quantum at the DLR Innovation Center in Ulm, Germany. 
For its part, DLR will further investigate the potential uses of photonics quantum computing in aeronautics, space, transport, energy, security and digitization.    
"We merge competencies from the Netherlands
and Germany in one location, at the innovation center of the DLR Quantum Computing Initiative in Ulm," said QuiX Quantum CEO Stefan Hengesbach.
"QuiX Quantum has already proven the functionality of its integrated quantum photonics and is successfully supplying Quantum Photonic Processors to customers throughout Europe. One of the things we expect from the cooperation with DLR is a systematic investigation and demonstration of the potential fields of application, especially in the numerous disciplines of DLR."
The German government recently provided DLR's Quantum Computing Initiative with funding to partner with other companies to advance German quantum computers. DLR awarded the contract to QuiX Quantum, given that the company was willing to work within the framework of its Quantum Computing Initiative. The company also said that QuiX Quantum had the creation of a universal quantum computer as one of its development goals. 
Enter Quantum Newsletter
To get the latest quantum computing news, advice and insight, sign up to our newsletter