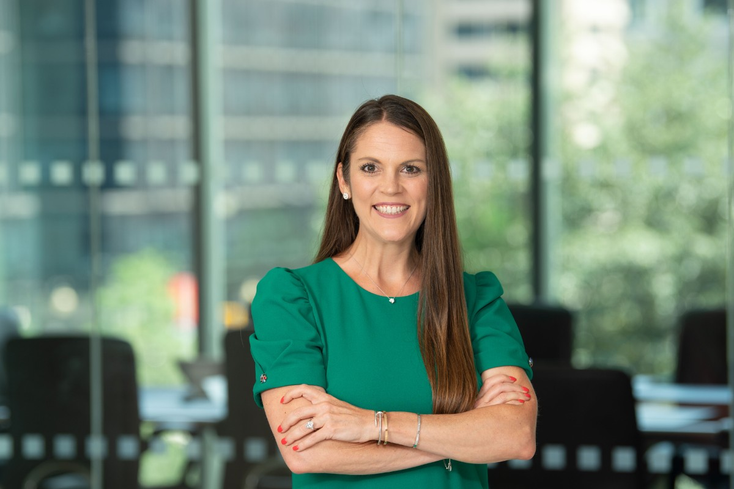 Kristin Gilkes is EY's global innovation quantum leader and oversees EY's global quantum computing lab.
EY
Kristin Gilkes is EY's global innovation quantum leader and oversees EY's global quantum computing lab. At the recent Commercializing Quantum event in London, she participated in a session about creating quantum-ready businesses.
In this Q&A with Enter Quantum, Gilkes discusses how EY has made its place as a quantum leader, different pathways into a career in quantum and how to engage the C suite in a quantum project.
Enter Quantum: How is EY undertaking its own quantum learning journey while staying one step ahead of its clients?
Kristin Gilkes: I don't see it as staying ahead, but instead staying abreast of the most relevant advances emerging in Quantum, so we stay relevant for our clients. EY's global quantum team is a very large group of quantum scientists and we have figured out great methods and methodologies to help that ecosystem, being able to democratize and really bring quantum to a client of any size and budget. 
We have that expertise, and we have it in varying degrees. We have
our physicists, we have our mathematicians, we have our material scientists – we've got the full breadth and scale of the subject matter. And I think that inherently, we have a culture of learning and wanting to stay abreast of the community.
We are also tied to academia. Part of our ecosystem is leading institutions that are doing a lot of research in quantum. We did a postdoc program with Oxford just two years ago. I think we're a bunch of happy nerds that enjoy continuous education.
What was your area of study? Can you see the route to getting into quantum science and computing changing over the years?
My Ph.D. is in quantum decision sciences, and one of my master's degrees is in artificial intelligence.
I spent the day at Oxford yesterday and we would really love to start exploring that hybrid nature of teaching quantum as part of an AI curriculum. I believe that we're going to start seeing more academic institutions doing just that.
When people think of quantum as a career, I don't want them to think oh, I have to be a physicist or a mathematician. I want them to think, oh, I could be a scientific journalist or an API developer and be involved in quantum. I want it to be known that it's going to require diverse backgrounds.
What is on EY's roadmap for quantum the year ahead and where are you hoping to be this time next year?
I am really excited about our quantum sensing technology and capability. We're developing middleware for quantum sensing for some of the largest oil and gas and mining clients around the world, really helping them leverage the value of quantum sensors. We believe in this and then next year, we're going to be very well underway with it.
What is EY's relationship with the quantum ecosystem?
In general, our relationships are with academia with governments, with big tech with startups. We're really trying to holistically approach the problem.
What would you like enterprises thinking of exploring quantum computing to know about it?
This touches on the whole issue of diversity. I would like companies to know that the ecosystem of quantum is available to everyone. It really is. You don't have to have the biggest budget ever in the world, just have the conversation.
Get your board and your C suite knowledgeable. We can do that in a day; just get them talking about quantum. Getting that level of board support is really needed for CTOs and CISOs who are wanting to carry this forward.
Read more about:
Enter Quantum Newsletter
To get the latest quantum computing news, advice and insight, sign up to our newsletter