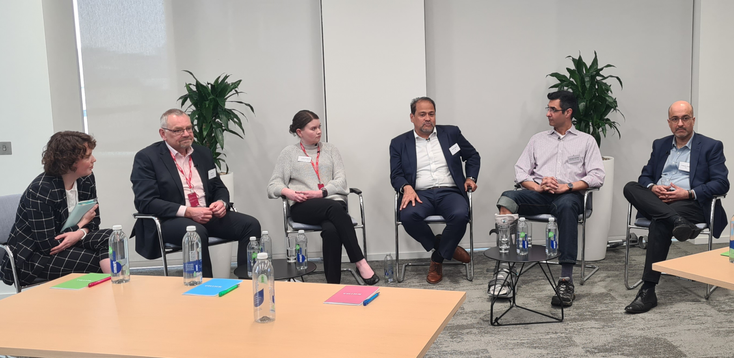 HSBC head of innovation Steve Suarez (third right) speaking at an IBM financial services roundable
Berenice Baker
At A Glance
HSBC and IBM have signed a three-year deal to team on applications for quantum computing in financial services .
HSBC and IBM are teaming on applications for quantum computing in financial services.
The companies signed a three-year deal to explore using quantum computing for pricing and portfolio optimization, advancing net-zero goals and mitigating risk, including identifying and addressing fraud.
The bank plans to actively recruit quantum computing research scientists and provide internal training programs to upskill colleagues in quantum technology to build a dedicated capability within its innovation team.
IBM is to provide HSBC with access to its 127-qubit Eagle quantum computing processor and provide quantum expertise to help HSBC validate and progress its potential quantum use cases.
"By investing in quantum computing we are innovating for the future, to make banking easier for our customers," said HSBC CEO Colin Bell. "This technology has the potential to transform how we run areas of the bank by addressing challenges that classical computer may never be able to solve alone. Our work with IBM
is essential to harnessing this potentially game-changing technology for financial services."
"Quantum is such a difficult beast we want to make sure we're understanding the technology well; we want to get the right people around the table to see how we apply it," Steve Suarez, global head of innovation, Finance & Risk, HSBC said at an IBM financial services roundable on Wednesday. "We want to make sure we're upskilling our people but also looking to the market to get some talent."
Suarez said the day after HSBC announced its partnership with IBM, five people applied for jobs, demonstrating a growing interest in quantum computing. He identified quantum computing as 'horizon three' – a longer-term, high-value corporate growth model for technology – which he expects will take three to five years to deliver results.
"We're starting to see commercial viability happen, but we need to start preparing now. If you're going to do quantum algorithms, it's very different from machine learning or some of the algorithms today. We have to have people really change their mindsets on how they use that technology and how they apply it and we're preparing ourselves now to be able to do that."
Suarez said that he initially expected HSBC to see 'quantum-inspired' benefits that would demonstrate the kind of quadratic improvements seen with adding more classical computing processing power versus the exponential growth quantum computing can offer with the addition of further qubits.
"We're going to be building it ourselves so that once it's there, we'll be able to take advantage of quantum advantage. And you don't want to be left behind," he said.
Read more about:
Quantum Newsletter
To get the latest Quantum news, research, videos and content, sign up to our newsletter