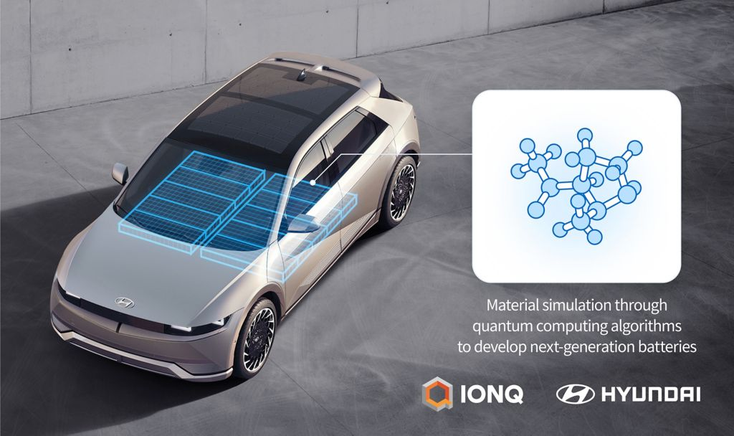 Hyundai is turning to quantum for object recognition and novel battery technology.
Hyundai
Hyundai Motor Company is expanding its partnership with quantum computing provider IonQ to use quantum to develop solutions for future vehicles.
Under the new agreement, Hyundai will use IonQ's quantum computer to develop machine vision algorithms capable of conducting object detection on 3D data from autonomous vehicles.
They will also use quantum to simulate electrochemical reactions of different metal catalysts to develop more efficient and environmentally friendly electric vehicles (EVs).
Improved Object Detection
IonQ and Hyundai first collaborated on using
in April. They initially investigated using quantum machine learning techniques to image processing to detect and classify objects such as street signs.
The new joint research will look at using quantum algorithms to analyze spatial and environmental data from lidar and other sensors, to improve future vehicles' identification and reaction to objects, people, and the surrounding environment.
According to IonQ,
its quantum machine learning techniques are better than current technology as they enable faster machine learning and the more effective recognition of edge cases, i.e., a scenario a machine learning algorithm has not encountered during its learning stage.
They could also generalize better, learn from lower-resolution or noisy data, and capture complex correlations with fewer parameters than existing systems need. IonQ claims this could lead to autonomous vehicles being able to make quicker, safer and more accurate decisions without user input.
Hyundai and IonQ are Also carrying out joint research using quantum algorithms to study lithium compounds and their chemical reactions in battery chemistry to improve charge and discharge cycles, durability, capacity and safety for EVs. This project was first announced in January.
Hyundai is now using the results of this research to expand its current scope into exploring new metal catalyst chemical reactions for future vehicles. This could lead to higher-performance EVs at reduced costs.
"IonQ's continued work with Hyundai strengthens both our beliefs that quantum will drive the next phase of innovations throughout the automotive industry," said IonQ co-founder and CTO Jungsang Kim.
"Autonomous vehicles are still in their infancy, yet the quantum-derived algorithms we're testing today have the potential to shape the commerciality, efficiency and safety of such systems."
Read more about:
Enter Quantum Newsletter
To get the latest quantum computing news, advice and insight, sign up to our newsletter