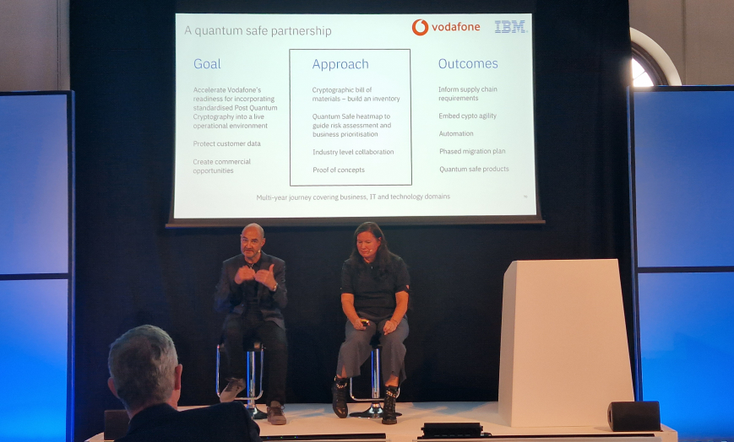 Thorpe and Ibbetson spoke at the IBM Think! event in London.
Berenice Baker
IBM and Vodafone have worked together on post-quantum security for the telecommunications industry for several years. A year ago, they formed the Post-Quantum Telco Network Taskforce with GSMA, the international trade body that represents mobile network operators.
IBM head of global telco transformation offering Lory Thorpe and Vodafone head of group R&D Luke Ibbetson delivered a session at the recent IBM Think! Day in London, "Secure your data for the era of quantum computing." In this exclusive interview, they offer an insight into the progress they have made to date and what lessons other sectors could learn from their early preparation.
Enter Quantum: What is the background to the quantum-safe collaboration between IBM and Vodafone?
Lory Thorpe: When I started looking at the implications of quantum-safe for telcos, I realized that there was a lot of work that needed to happen from an industry perspective. There's an industry push around making sure that the right standards are in place
and that the various components are coming together at an industry level rather than at an individual company level. When we started working together, one of the first things that we did was go to the GSMA and say: "We believe that there's a gap here that needs to be addressed."
Luke Ibbetson: We started our journey three or four years ago, looking at some of the areas where we thought there would be a vulnerability. We wanted to understand the magnitude of the challenge we were facing. We formalized the relationship with IBM to start working on this together when we realized we needed to develop somebody. Some of the tools IBM has been pioneering with other industry sectors but not in telecommunication, which is a bit specialist.
How did you develop the proposals with the GSMA?
Thorpe: We went to the GSMA and said we believe some work needs to be done at the industry level, and we'd like to form a working group around it. Almost exactly a year ago, we formed the Post-Quantum Telco Network Taskforce. It started with IBM and Vodafone, and we had support from Verizon.
This was something that couldn't be done by individual companies, it needed to be an industry push. We now have 54 company members of the task force, over 22 operators, all over the world: North America, Asia, Europe. We published the work of that task force, the impact assessment, at a GSMA event in February.
A couple of weeks ago, we published the risk guidelines, and these are industry efforts that are meant to help the telco operators and the wider telco industry. For example, we're now building a quantum-safe agenda for 6G at an industry level. There's also an engagement that IBM has around how we work with Vodafone to make Vodafone's capabilities quantum-safe or offer quantum-safe services.
Ibbetson: That bilateral relationship covers both quantum applications and quantum safety. While we're talking here about the transition towards the adoption of these new post-quantum cryptographic algorithms that we need to see adopted, we're also looking at the positive applications of quantum for telcos and that's something we're working on, like quantum networks.
What are the specific challenges for post-quantum for the telecommunications industry?
Ibbetson: We keep saying telco is special in the sense that we tend to be a fairly complex ecosystem. We have thousands of suppliers who operate multiple generations of technology. We have customer-facing systems through IT and the technology that makes it work in the background. We started to realize early on that we didn't understand where all of the physical forms of cryptography were being used across our business. That's the same as any other telecommunication operator that's been in business for a while.
Thorpe: Standards and interoperability are a big challenge. Because even if you have the best post-quantum solution in the world, we can go in here and commit it in isolation. The expectation is that telco networks need to continue to interoperate. That is the biggest industry challenge.
What is your message to telecommunications operators and other industries on how to prepare for a post-quantum world?
Thorpe: Start planning, start doing the analysis. It's better to get ahead of the game and not leave it to the last minute.
Ibbetson: Remain optimistic. We think that quantum computing is going to bring some very good benefits to the industry as well.
Where should businesses go for help on where to start?
Thorpe: IBM has a global quantum safety team that is working across all industries, including banking, energy and telco. I think telco is the industry effort that we've done that is fairly unique and we're looking at replicating that across other industries.
Ibbetson: Vodafone's mobile network offers of suite of services for quantum safety. We are taking a very customer-centric view of this and that's driven by a need to protect our customer data.
Read more about:
Enter Quantum Newsletter
To get the latest quantum computing news, advice and insight, sign up to our newsletter