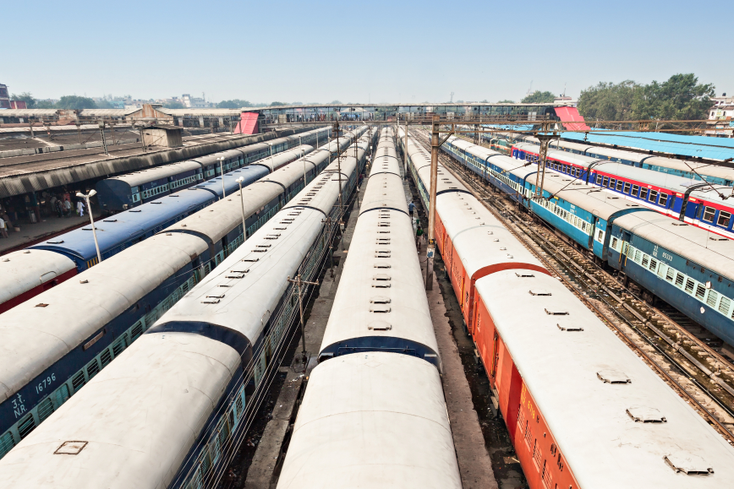 Trains at New Delhi station.
Getty
India's national railway operator Indian Railways has announced that it plans to use new technologies including quantum computing and AI to transform its operations and modernize its infrastructure to be on par with the rest of the world.
Speaking at a technical organized by the Centre for Railway Information System (CRIS), railway minister Ashwini Vaishnaw said that the Indian government already has a clear aim for the introduction of the technologies. 
"Government is clear in its objective for clear focus, intent, flexibility, open-mindedness and a sense of purpose to do things which are for the betterment of the country and the railways," Vaishnaw said. 
CRIS is collaborating with the Indian Space Research Organization to live-track trains via the Real Time Train Information System (RTIS) project. RTIS makes finding trains easier for passengers and the national transporter. Indian Railways is also equipping trains with IoT devices based on satellite communications technology.  
Importance
of Data Analytics
Indian Railways intends to use data analytics to benefit its operations. The company is seeking to reduce congestion and minimize delays by analyzing data that can predict the demand for trains, enabling the company to ensure it has adequate resources. It will also use data analytics to enhance maintenance, lower operating expenses and improve train schedule effectiveness. 
Data analytics will also be essential in providing better services, a critical factor in enhancing the company's passenger experience. The company plans to use the technologies to determine its busiest routes, enabling them to better plan intermodal transportation to guarantee effective and seamless transportation services.
Read more about:
Enter Quantum Newsletter
To get the latest quantum computing news, advice and insight, sign up to our newsletter