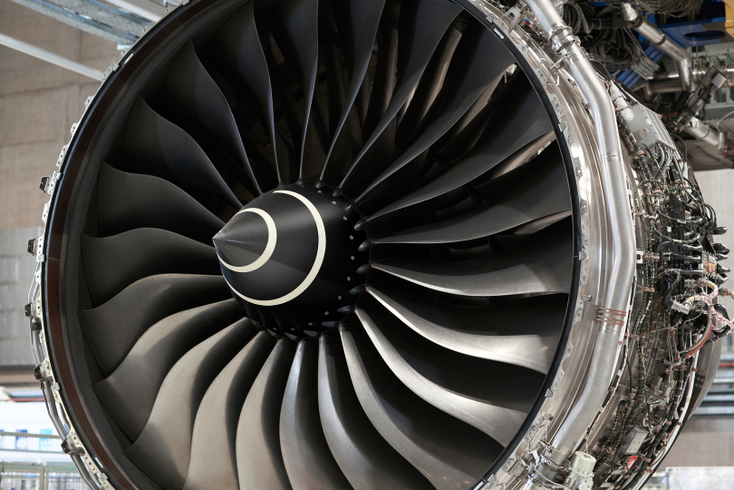 A Rolls-Royce Trent jet engine
Rolls-Royce
Nvidia, Rolls-Royce and quantum software provider Classiq have used quantum circuits to enhance the design of jet engines for improved performance.
Using Nvidia's quantum computing platform, the companies simulated a quantum computing circuit for computational fluid dynamics (CFD) that measures 10 million layers deep and contains 39 qubits. Current quantum computers rely on GPUs to support circuits only a few layers deep.
Rolls-Royce intends to use the new circuit to help it achieve a quantum advantage in CFD. The new technology will enable the company to model jet engine design performance in simulations combining classical and quantum computing techniques.
As an aviation industry leader, Rolls-Royce views such innovations as crucial for the future development of state-of-the-art jet engines.  
"Designing jet engines, which are one of the most complicated devices on earth, is expensive and computationally challenging. Nvidia's quantum computing platform gives Rolls-Royce a potential path to
tackle these problems head-on while accelerating its research and future development of more efficient jet engines," said Nvidia vice president of hyperscale and HPC Ian Buck.
Rolls-Royce partnered with Classiq to design the circuit using Classiq's synthesis engine. The companies then simulated the circuit's performance using Nvidia A100 Tensor Core GPUs. The companies used Nvidia cuQuantum, a software development kit that facilitates quantum workflows, to boost the speed and scale of this process.   
Nvidia Grace Hopper Superchip
The Nvidia Grace Hopper "Superchip" is designed for large-scale quantum simulation workloads. Classical systems built with the CPU can readily connect to quantum processors – QPUs – thanks to its high-speed, low-latency Nvidia NVLink-C2C interconnect. 
Enter Quantum Newsletter
To get the latest quantum computing news, advice and insight, sign up to our newsletter