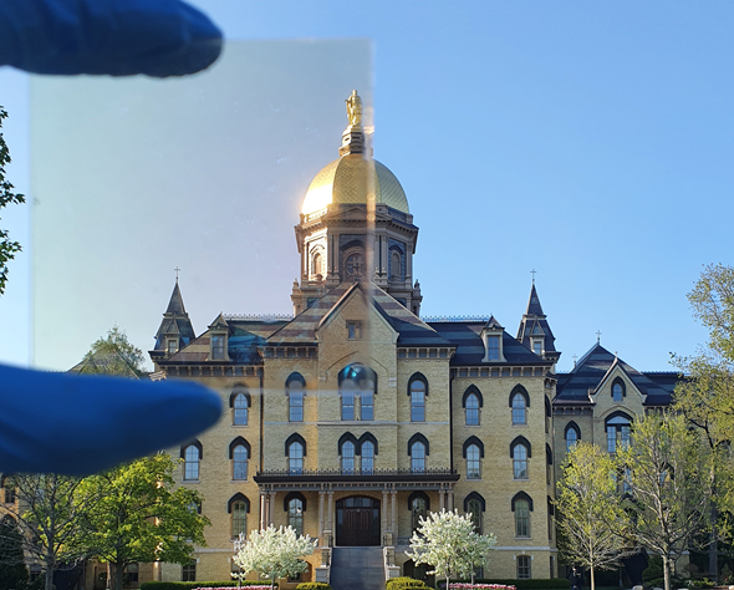 The window film allows visible light to pass in while reflecting away heat.
Adapted from ACS Energy Letters 2022, DOI: 10.1021/acsenergylett.2c01969
Researchers at the University of Notre Dame in Indiana and Kyung Hee University in Seoul have used artificial intelligence and quantum computing to design a transparent window coating that lowers inside temperatures without electricity.  
According to a report in the scientific journal ACS Energy Letters, the researchers created a transparent window coating that blocks the sun's ultraviolet and near-infrared light. The achievement is noteworthy since these wavelengths typically pass through glass and heat an enclosed room. 
The new window coating also radiates heat from its surface at a wavelength that can cross into the atmosphere.  
Researchers seeking to achieve these criteria simultaneously have found it challenging to maintain window transparency. However, the team, led by Eungkyu Lee and Tengfei Luo, designed a "transparent radiative cooler" (TRC) that achieved this goal.
The team created computer models of candidate TRCs, each consisting of alternating thin layers of silicon dioxide,
silicon nitride, aluminum oxide or titanium dioxide on a glass base. They then covered these layers with a film of polydimethylsiloxane. Finally, the team used quantum computing and machine learning to optimize the type, order and combination of these layers. 
The team required an iterative process to achieve their breakthrough. Quantum computing enabled the team to efficiently test all possible layer combinations in a split second. The end product was a fabricated coating design that outperformed conventional TRCs and even commercial heat-reduction glass. 
The researchers claim that their window coating can reduce cooling energy consumption by up to 31% compared with conventional windows in a hot and dry climate. They also say that their window coating can be used in other applications, such as car and truck windows. 
The researchers added that their quantum computing-enabled optimization technique would enable them to produce other complex, functional composite materials.
Read more about:
Quantum Newsletter
To get the latest Quantum news, research, videos and content, sign up to our newsletter