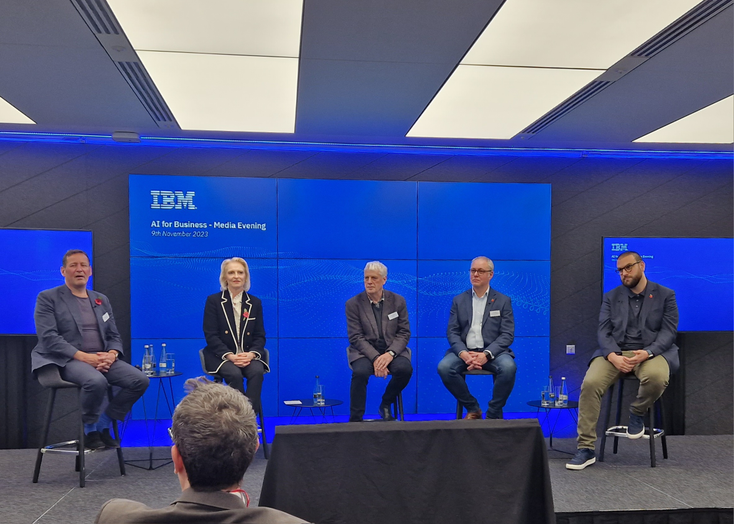 The IBM panel addressed how hybrid AI and quantum computing solutions could enhance AI benefits.
Berenice Baker
The recent IBM AI & Innovation Media Day in London unsurprisingly had a strong focus on the current buzz around AI. However, the panel discussion, "Takeaways from the AI Safety Summit and how businesses can safely harness generative AI," took time to address how hybrid AI and quantum computing solutions could enhance the benefits organizations are already getting from AI.
Kate Royce, managing director at the Hartree Center for Digital Innovation, said researchers are investigating how quantum computing could play a role in medical prognosis diagnostics. Adding quantum hybrid algorithms to the machine learning workflow is already demonstrating benefits.
"Bringing in quantum algorithms to that meant that not only could it come up with a better cancer/no cancer diagnostic, but it could also identify the type of cancer with 70% accuracy,  which is massive compared to what we have seen before," she said.
"Those are only in proof of concept and not industrial applications, but in the world that
I'm working in, those proofs of concept are probably going to be out there in the next five years, and that's what I'm so excited about. Then we'll see what the full quantum commercial application will be. But these hybrid workflows in the near term, I think it's something to watch out for."
Royce said quantum hybrid workflows could accelerate drug development in the case of another pandemic.
"COVID-19 already proved that using hybrid workflows would have come up with drugs that were potential treatment pathways more accurately than we did on the classic process, and that was a speed-up compared to what we've ever had before," she said.
The panel also addressed how organizations should prepare now to incorporate quantum into their workflows despite practical machines still being some years away. Nicola Hodson, CEO of IBM U.K. and Ireland, said that while quantum stands to enhance R&D capabilities, organizations must also prepare for its potential risks.
"As you start to take advantage of quantum, there are things that organizations need to be doing now," she said. "One these is making sure that they're safe and that their algorithms are protected now so that they can't be cracked by nefarious types as quantum becomes more available."
Peter Waggett, IBM U.K. director of research at the Hartree Center, added "We've got access to quantum now; a company that wants to try and tackle some of this stuff can come to us at Hartree, and we'll work with them. AstraZeneca has done some initial drug discovery work with us. We've now got to make it available to everyone. The time is right now."
Paul Weller, head of customer propositions and conversational AI at retail and commercial bank NatWest said that quantum is in the very early days of general availability, but it will become increasingly available in the future.
"One interesting thing is you don't need a quantum computer; IBM enables you to hire time on it so you can dive into it on demand. In terms of barriers to entry, if you understand Python, you can use Qiskit Runtime, so users can start playing around with it."
The event fell a week after the U.K. National Quantum Computing Center (NQCC) and IBM agreed to offer scientists
cloud access to IBM's fleet of quantum computers
. The move aims to open up fresh research paths and supports NQCC's goal of tackling complex problems across sectors using quantum computing.
Read more about:
Enter Quantum Newsletter
To get the latest quantum computing news, advice and insight, sign up to our newsletter