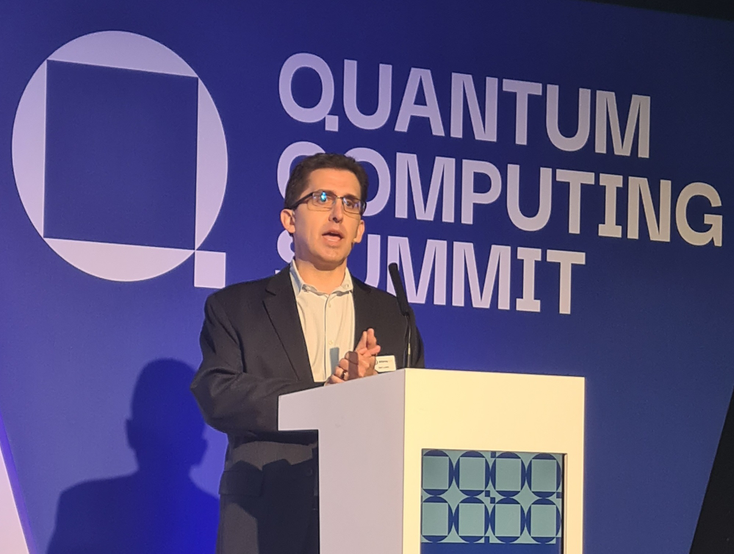 Omdia chief quantum computing analyst Sam Lucero spoke at the Quantum Computing Summit.
Berenice Baker
Speaking at the opening of the Quantum Summit London, Lucero said government support, the journey to quantum advantage, enterprise adoption, AI and quantum machine learning, and a vibrant ecosystem determine the current status of the quantum computing industry 888. 
Lucero said six countries, in addition to the EU as a whole, have invested more than $1 billion in quantum technology, including quantum computing technology, and beyond that, another six have invested, or committed to invest, a similar amount. Many governments regard quantum technology as a key national security priority. 
The money is being used to support private, quantum computing vendors, fund academic research, and enable government departments and agencies to act as key customers to quantum computing vendors. It is also being used to foster the development of quantum skills and to create national standards for national quantum computing development initiatives. 
There is also a regulatory aspect that is
most prominently seen in the form of export controls, as countries try to keep perceived strategic rivals from accessing quantum technology. This has notably manifested as preventing many vendors from selling to China. 
Journey to Quantum Advantage
The industry is on a multi-year path to achieving quantum advantage over classical computers. According to Lucero, estimates from stakeholders and market participants about when this might be achieved vary, but most suggest between 2027 and 2030. However, some quantum physicists question whether the quantum advantage is achievable at all.
The companies adopting quantum computing are generally larger enterprises and vertical industries where there is a complex computational element as a key feature of the business proposition of their operations. This describes a range of verticals including chemicals, life sciences, transport, logistics, financial services and manufacturing. 
Enterprises are currently trying to understand how quantum computing can be applied to very specific circumstances, upskilling staff and developing patent-protected technology.
These applications tend to boil down to one of three primary use cases; quantum machine learning (QML), complex optimization and complex simulation. An Omdia survey found roughly 60% of current adopters indicated QML was their first focus area, followed by optimization and simulation at around 20%,
Many organizations that might be interested in QML have already implemented AI machine learning, so they have processes and systems in place and are ready to start exploring QML.
The growth and the number of vendors in the quantum computing space is one indicator of how vibrant the ecosystem is. It started in 2016 with the single-digit growth of quantum computer introductions. 
A much higher rate started at that point when IBM made access to a five-qubit quantum computer available over the cloud. That marked the start of a fundamental sea-change in how adopters accessed quantum computing capabilities from having to build their research rigs or buy a very expensive piece of equipment to being able to access just what they need. This is available through a service that they are familiar with as a standard cloud computing access service, whether from cloud hyper scalars AWS, Google or Microsoft.
This has democratized access to quantum computing and has in parallel created a space for different types of vendors to start to be creative. Since starting in 2017, hardware vendors are still being founded but they're being joined by software vendors, intelligent control system software, algorithms, orchestration layers and even full applications, as well as service providers. 
Enter Quantum Newsletter
To get the latest quantum computing news, advice and insight, sign up to our newsletter