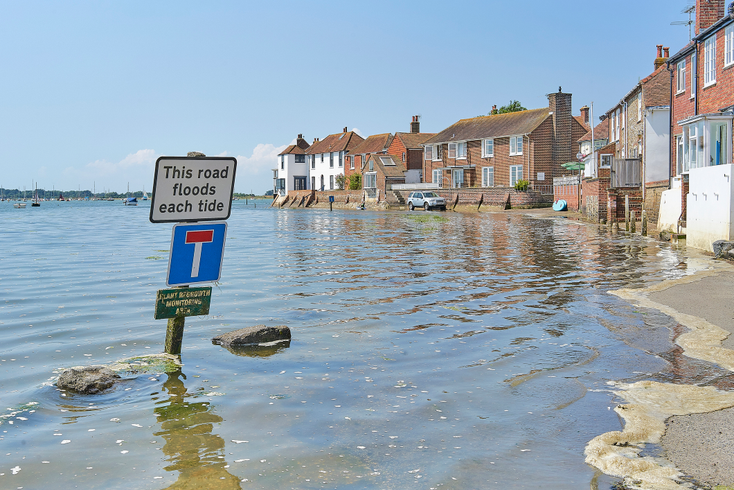 Quantum computing could make flood risk modeling more accurate.
Getty
A new partnership aims to use quantum algorithms to develop more accurate large-scale flood prediction models that are beyond the capability of classical methods.
Multiverse Computing is the lead contractor and software provider and will deliver the technical formulation of the problem and quantum algorithm development. Oxford Quantum Circuits (OQC) will supply quantum hardware and ancillary resources. Risk management firm Moody's Analytics will contribute industry expertise, data requirements and computational efficiency advice.  
Flood modeling involves running two-dimensional hydrodynamical models that describe the flow of water in scenarios such as dam breaks, storm surges or river flood waves. Complex scenarios that cover large areas stretch the processing capability of current methods, which use parallel computing and GPU-based computing.
The team aims to use quantum algorithms for computational fluid dynamics to address these challenges and to make flood risk assessment and management
more accurate and efficient.
The Department of Environment, Food and Rural Affairs is overseeing the project and will be the first customer to use this new system to help the U.K. better adapt to extreme weather events linked to climate change. 
Non-governmental innovation agency Innovate U.K. has awarded stage 1 funding for the project, named "Quantum-Assisted Flood Modeling: Pioneering Large-Scale Analysis for Enhanced Risk Assessment."
According to Multiverse, the improvements to accuracy and effectiveness gained by the quantum approach to computational fluid dynamics problems could contribute to climate change adaptation efforts.
"Understanding the changes in flood risk will help everyone prepare for extreme weather events, from government agencies working to mitigate those risks to homeowners trying to protect their homes and properties, as well as insurance agencies quantifying these new risks," said Multiverse founder and CEO Lizaso Olmos. 
Moody's estimates that by 2050 average cost of flood risk in the U.K. will increase by at least 20% and that there are $850 million in losses each year in the country due to inland flooding.
"We recognize the urgency of addressing escalating flood risks which is why this project is so important to us. By harnessing the power of OQC's quantum computing, we're not only breaking free from the constraints of classical computing, together we are redefining the future of flood management and helping to create a safer, more resilient world for future generations," said OQC CEO Ilana Wisby.
Read more about:
Enter Quantum Newsletter
To get the latest quantum computing news, advice and insight, sign up to our newsletter