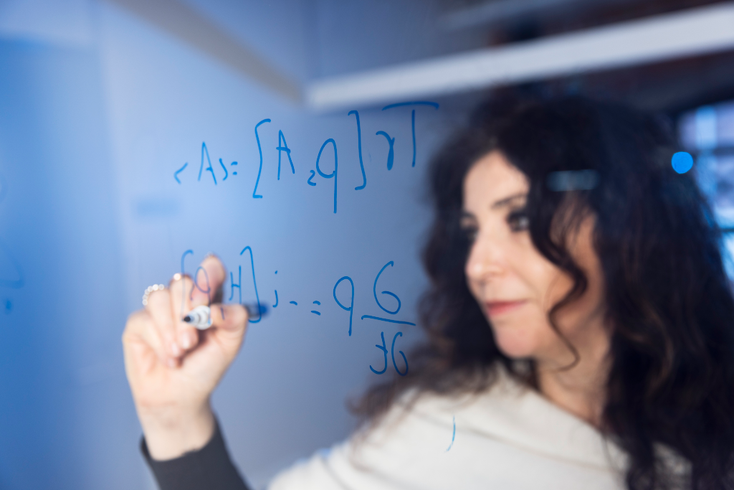 Algorithmiq CEO and co-founder Sabrina Maniscalco.
Algorithmiq
Quantum computing could hold the key to identifying medical conditions and developing drugs and therapeutics in a new way that takes into account the complexity of human biology.
Network medicine combines systems biology and network science to better understand and treat disease by looking at the complex interactions between proteins in the body and how medicines affect them.
Quantum startup Algorithmiq is working with Brigham and Women's Hospital to establish a new field of quantum network medicine, using quantum computing to solve network medicine problems.
"In biology and medicine, we are extremely reductionist," Joseph Loscalzo, professor of medicine at Harvard Medical School and co-founder of network medicine told Enter Quantum. "While that's helped us identify disease, drivers and mechanisms in biological systems, it's run out of steam in many respects, especially as we recognize the increasing complexity of biology and chronic disease."
"With network medicine, we begin with the comprehensive
human protein-protein interaction network. Current drug targets and medical action don't derive from those proteins, so they are generic and not specific to a certain cell."
The partners intend to gain new insights into disease mechanism, prevention, and treatment and tackle the $1bn cost and typically decade-long process required for pharmaceutical companies to bring a new drug to market. 
"Everyone is discussing the potential use cases of quantum computing and citing drug development and discovery. The new idea is to go beyond the reductionist approach of single target, single molecule," Algorithmiq CEO and co-founder Sabrina Maniscalco told Enter Quantum.
"With quantum network medicine, we want to combine a holistic approach, which takes into account the complex network of protein interactions in the human cell, with quantum empowerment. It combines the complex approaches to understanding all the interactions within the cell with what quantum can do."
"The potential application of quantum computing methods to the computational challenges of network medicine is an exciting possibility, both as a demonstration of the practical utility of quantum computing in general, and as a mechanism for solving high-dimensional network problems that are otherwise intractable by conventional computational approaches," added Loscalzo.
"If successful, the application of quantum computing to network medicine will set a new standard for and define the nascent field of quantum network medicine."
Quantum Newsletter
To get the latest Quantum news, research, videos and content, sign up to our newsletter