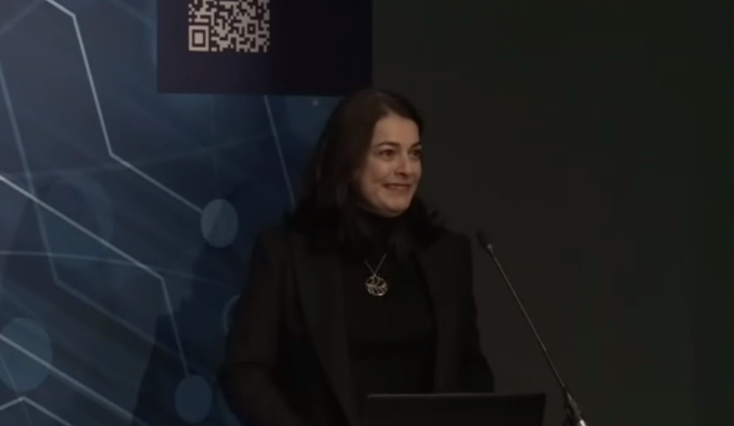 NQCC chief scientist Elham Kashefi spoke at the Nation Quantum Technologies Showcase.
UKRI
The U.K. Government held the National Quantum Technologies Showcase in London on Thursday to review the status of quantum investments and initiatives aimed at creating long-term industrial value. It was hosted by Innovate UK, the Engineering and Physical Sciences Research Council and the UK National Quantum Technologies Program.
The opening keynote saw several speakers from government, industry and academia deliver an update on current quantum programs.
Chasing Profitability from Investment
George Freeman MP, minister of state for science, research and innovation opened by outlining the role of quantum technologies in driving the U.K. away from a service economy towards science and technology (S&T).
"The city is largely disconnected from our S&T base," he said. "The U.K. is incubating brilliant companies that are going all around the world but not harnessing the industrial value of it. If we're going to deliver what we've set out, then we need to be very clear, serious, strategic and long-term
about it." 
Freeman said the government is now mapping private investment and seeing which sectors are leveraging it. He added that it had set up the National Science and Technology Council (NSTC) alongside the National Security Council because quantum is a global race with geopolitical and security implications for dual-use security and civilian applications.
Quantum technologies are one of five critical technologies the government has identified as essential to U.K. industrial advantage and geopolitical, global race for future growth and prosperity over the next decade. The others are engineering biology, future telecommunications and semiconductors, others are available.
"There are about 35 exciting deals in the sector. The opening of the Toshiba manufacturing center in Cambridge is a huge moment and a big signal of our expertise there and Toshiba's role and commitment, the PsiQuantum laboratory unit at Daresbury and you'll notice that we made a major investment in upgrading the DSP facility. And I think the Quantum Motion raised £42 million ($52 million)." 
Quantum Advantage Pathfinder
National Quantum Computing Center (NQCC) chief scientist Elham Kashefi gave an update on the NQCC's Quantum Advantage Pathfinder Program, which pairs researchers with industry partners to understand how quantum computers might help address their problems. The lab will be able to offer expertise and education, in addition to undertaking pioneering research.
"These days, everything's about big data," she said. "Everybody wants to collect more data, train more data, manipulate more data and correlate more data. We're pushing the limits of Moore's law, building giant machines and putting large language models for security and correlation and blockchain on top of that. What will happen next is this fast, massive, secure, accurate data machine will consume the energy of the planet."
She explained that quantum hardware, including computers, communication and sensing, is already delivering energy savings in that context. 
"To drive that capitalistic view the minister has set for us to make money out of quantum, we are running a socialist activity of looking at all platforms and all the discoveries and validating through quantum advantage," she said. "We need to look at all across the national labs to make sure we are taking all the advantages into account." 
Kashefi presented examples of NQCC industry partnerships that are directly targeting quantum use cases. The organization announced during the showcase event that it is partnering with Rigetti and HSBC to look at using quantum machine learning for money laundering detection. It is also working on projects with Quantum Base Alpha regarding energy efficiency simulation and machine learning for genomics.
In cybersecurity, NQCC has worked on several projects with BT and Nu Quantum regarding path-based authentication. It is working with the University of Edinburgh on simulation using high-performance computing for energy applications and investigating quantum benchmarking with Riverlane.
"Through our Quantum Advantage Pathfinder Program, we're doing exactly what everybody's trying to do – look at industry's pain points," Kashefi added. "We're trying to drive use case discovery, translation, design and benchmarking to highlight that in the U.K. we have this ecosystem that brings everybody together. This is the quantum village that we are only now tapping into to make sure that pipeline is working."
Read more about:
Enter Quantum Newsletter
To get the latest quantum computing news, advice and insight, sign up to our newsletter