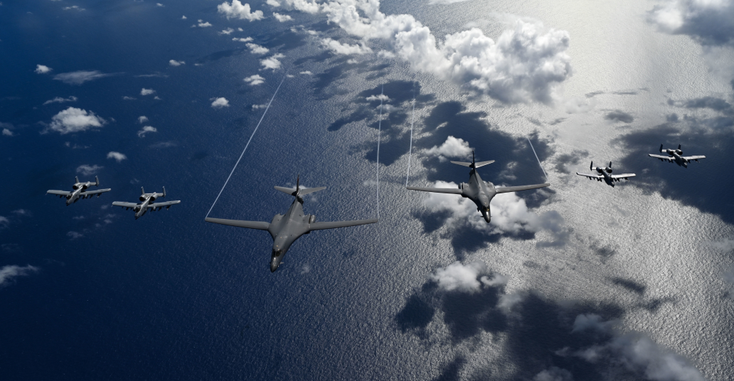 Quantum navigation is effective even in locations where GPS is not available.
U.S. Air Force photo by Staff Sgt. Hannah Malone
The U.S. Air Force awarded AI and quantum solutions specialist SandboxAQ a contract to research
quantum navigation technologies
to supplement GPS in January.
Quantum navigation uses the quantum effects of the Earth's magnetic field as an alternative to global navigation satellite systems. It is effective even in locations where GPS is not available due to line-of-sight obstructions or denial of access by jamming or spoofing by adversaries.
SandboxAQ aims to address public sector challenges by combining its portfolio of quantum-resistant security, quantum sensing and quantum computer simulation and optimization. In this Q&A, Lloyd Dabbs, SandboxAQ Federal director of public sector business development, discusses the significance of the contract and how these technologies work together.
Enter Quantum: Why is it important for the armed forces to develop alternatives to GPS for positioning, navigation and timing?
Lloyd Dabbs: Assured positioning, navigation and timing (PNT) is a top priority, not
just for the Air Force, but for the wider U.S. Department of Defense, the intelligence community and its allies. These partners require an alternative PNT solution that is less susceptible to adversary attacks and environmental conditions due to the fact that loss of GPS in contested military operations would negatively impact U.S. missions. Not only can we not let this happen, but we are actively working to mitigate the impact entirely. 
Billions of people rely on GPS every day, but the system is vulnerable. Commercial and military pilots alike have reported a significant uptick in GPS loss and interference since Russia invaded Ukraine, especially those navigating in and near the region. The conflict is providing many lessons learned and has further prompted the U.S. and its allies to seek alternative solutions.
To clarify, our solution is being designed to augment and extend GPS, not to replace it. A robust and diverse toolkit of PNT solutions is necessary to ensure resilient operations. SandboxAQ is just one of many companies looking at this problem. However, our approach to quantum navigation provides critical capabilities that can be adopted by military units to ensure the safety of global personnel. 
Why is quantum technology a suitable candidate to use for this?
Quantum technology, specifically quantum navigation, is a good candidate to complement GPS for multiple reasons:
Persistence/reliability: Earth's magnetic field cannot be jammed.

All-weather/all-domain: Because quantum navigation doesn't require visual ground features, the technology offers great potential for navigation at sea, over open water, on remote terrain or even underwater or underground. These applications are in higher demand as the use of autonomous vehicles expands and the U.S. military prepares for the greater possibility of irregular or urban operations.

Passive technology means it won't cause users to be detected by an adversary. 
On what timescale do you hope to be able to conduct onboard demonstrations aboard aircraft? 
We are actively demonstrating a variety of capabilities today. For this effort, we plan to carry out onboard demonstrations within 18 to 24 months. 
Unlike pure quantum computing companies, SandboxAQ's remit includes other quantum technologies and AI. What opportunities does that present for public sector contracts?
Correct, Sandbox AQ is addressing real-world challenges today – without quantum computing hardware. Our solutions run on today's classical computers. Current quantum computers are too nascent to do many useful tasks for large enterprises. The future of computing is a hybrid one where classical and quantum computers will work in tandem. 
Our solutions combine AI and quantum technology – what we call "AQ" – to address a wide range of challenges across both the commercial and public sectors. This is meant to address critical capability gaps today and bridge the divide between classical and quantum capability development. Our solutions rely on AI to improve our approach to quantum science and vice versa.
This presents highly relevant opportunities within the commercial and defense sector to develop and deploy novel quantum solutions in areas such as biotechnology, pharma, quantum-resistant cryptography and a host of use cases related to quantum sensing. The opportunities are immense, and we are actively working with our defense partners to help prioritize new quantum technology beyond this effort. 
No, these are separate contracts that allow the Air Force to pursue research via two very different technology areas SandboxAQ is focused on: quantum-resistant security and quantum sensing. Our third technological area of focus is quantum simulation and optimization. With that said, these efforts demonstrate the urgent need the U.S. government has placed on these technologies and the trust they have placed in SandboxAQ as a major thought leader to deliver novel quantum solutions. 
As a veteran intelligence officer who has led Department of Defense innovation projects, why is it important that the military is taking a lead on programs involving quantum computing and other quantum technologies?
Military support is absolutely a critical enabler for the early adoption of quantum technologies. However, it is equally important that the private sector be as aggressive to build a robust ecosystem of diverse capabilities.
I have witnessed firsthand the impacts that the loss of GPS presents in an operational environment. There is zero room for error and can have lasting effects, not just for individual platforms and operations, but also for the lives of the military personnel involved.
Resilient PNT is essential to ensure successful national security operations for the U.S. and its coalition allies.
Read more about:
Quantum Newsletter
To get the latest Quantum news, research, videos and content, sign up to our newsletter