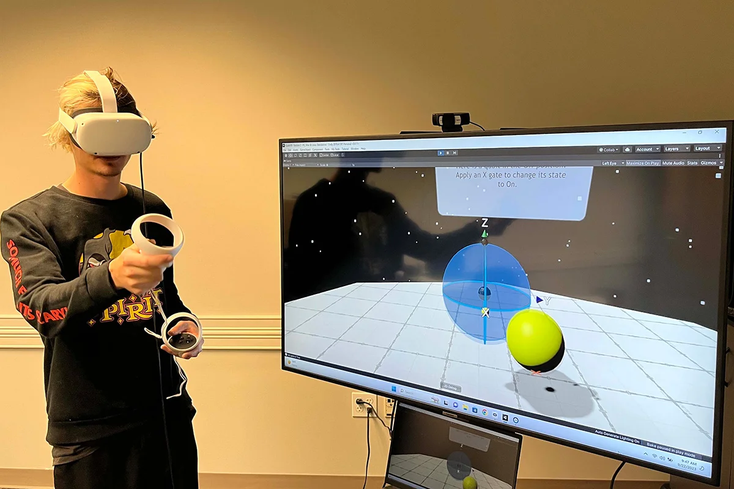 A student demonstrates UCF's QubitVR application for teaching quantum information science
University of Central Florida
A project using virtual reality (VR) and machine learning to address misconceptions surrounding quantum information science has secured a $927,203 grant.
A consortium led by the University of Central Florida (UCF) with the University of Texas at Dallas and Vanderbilt University is developing the system, funded by the U.S. National Science Foundation.
The project launched in August 2023 and centers around QubitVR, a pioneering VR application for quantum education. Its objectives include assessing QubitVR's effectiveness through lab-based studies and undergraduate QIS courses, alongside efforts to broaden its reach through the development of desktop and smartphone versions of the application.
UCF has received $500,000 to facilitate the development of QubitVR and conduct lab-based studies and course evaluations. The project is spearheaded by Ryan McMahan, an associate professor of computer science, with support from Eduardo Mucciolo, a professor of physics at UCF.
Using virtual reality, educators
seek to provide students and professionals with tangible, visual insights into quantum mechanics, making the complexities of the field more accessible. QubitVR aims to correct any misconceptions STEM students might have about quantum phenomena.
McMahan emphasizes the potential of quantum computing, citing its applications in cryptography, security, big data analysis, and more. The key, he believes, is to equip individuals with a solid conceptual foundation in quantum mechanics combined with strong algorithmic skills, which could lead to the development of groundbreaking quantum computing algorithms.
"Our goal is to create a VR application which has an intelligent tutoring system implementing different machine learning models to teach 'hard to understand subjects or topics' with ease," said Reddy.
"Through QubitVR, we are trying to teach quantum computing, but we can always design a different application tailored for a specific subject."
Read more about:
Enter Quantum Newsletter
To get the latest quantum computing news, advice and insight, sign up to our newsletter