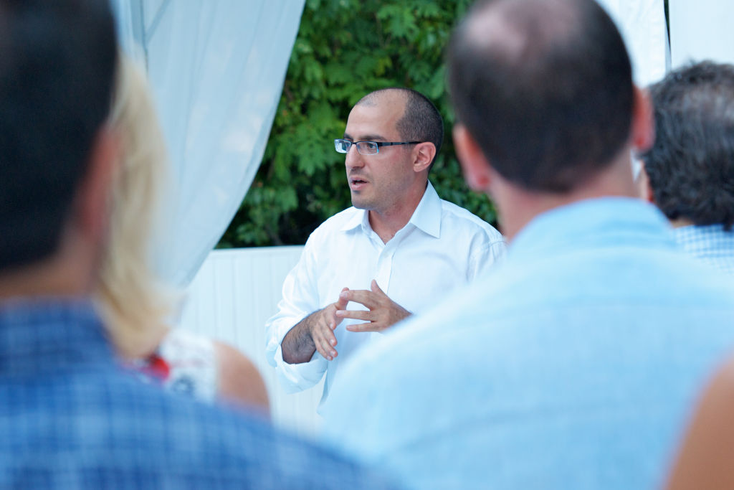 Jack Hidary is CEO of Sandbox AQ.
Scott Roth/Getty Images
At A Glance
Google parent company Alphabet announced yesterday that it is spinning off its quantum technology group Sandbox.
Google parent company Alphabet is spinning off its quantum technology group Sandbox into an independent company, Sandbox AQ.
Sandbox AQ plans to develop hardware, applications and services for computationally intensive applications such as artificial intelligence and machine learning solutions, according to the announcement by Alphabet.
Its target markets include telecoms, financial services, healthcare, government and computer security, with launch customers including Vodafone Business, Mt. Sinai Health System and Softbank Mobile.
While quantum computing is not yet commercially viable as a standalone technology, the company's initial solutions will run on classical computers and evolve to incorporate quantum technology.
Planned solutions include post-quantum cryptography modules to help protect companies from the threat of quantum technology being used to unlock standard encryption, exposing data to hackers.
Jack Hidary remains as CEO of the 55-person company, based in Palo Alto, California.
Hidary launched Sandbox, which operated separately from Google's moonshot division, X, in 2016. Former Google CEO and Alphabet technical advisor Eric Schmidt has joined as chair of Sandbox AQ's board of directors.
"The gravity of the geopolitical climate necessitates that we develop stronger cybersecurity platforms for companies and governments. In addition to cybersecurity, quantum tech and AI working together have a powerful compound effect we call AQ, which can impact areas such as drug development, clean energy and data security," Hidary stated in the announcement.
"We have built an ecosystem of partners, customers, government agencies and university relationships to drive this mission forward at scale."
The spinout attracted an undisclosed funding amount with Investors including Breyer Capital, Eric Schmidt, Tomas Tull and First Light Capital Group.
"The convergence of quantum and AI technologies is already transforming entire industries, accelerating scientific discovery and reimagining what we thought was possible," Schmidt said.
"By developing commercially viable, quantum technologies using a combination of today's high-performance computing power and emerging quantum platforms, Sandbox AQ is uniquely positioned to lead this transformation at scale for global impact."
"The impact that quantum technology will have on communications, healthcare, finance and other sectors will be as large if not larger," said Breyer Capital founder and CEO Jim Breyer.
"While many quantum companies are focusing on computing hardware development, Sandbox AQ is solving real-world challenges and delivering applications to customers now."
The announcement follows specialist quantum technology company IonQ going public in October 2021 via a merger with a special purpose acquisition company (SPAC) and Rigetti Computing following suit in March. D-Wave has announced it plans to do the same.
Omdia quantum computing chief analyst Sam Lucero commented: "The spin-out of Sandbox AQ helps to focus market attention on the near-term possibilities for leveraging quantum technologies while we wait for fault-tolerant quantum computers. Quantum sensing, quantum-inspired simulation, and quantum-safe communications receive less attention – and funding – than quantum computing but can make a significant impact now across a variety of industries.
"Alphabet's action is particularly notable for the emphasis on using AI techniques to make quantum sensing a practical near-term tool for researchers and industry. Sandbox AQ should particularly cross the radar of AI stakeholders, as the company has an opportunity to build competitive advantages in the intersection of AI and quantum technology that may prove defensible over time."
Read more about:
Quantum Newsletter
To get the latest Quantum news, research, videos and content, sign up to our newsletter