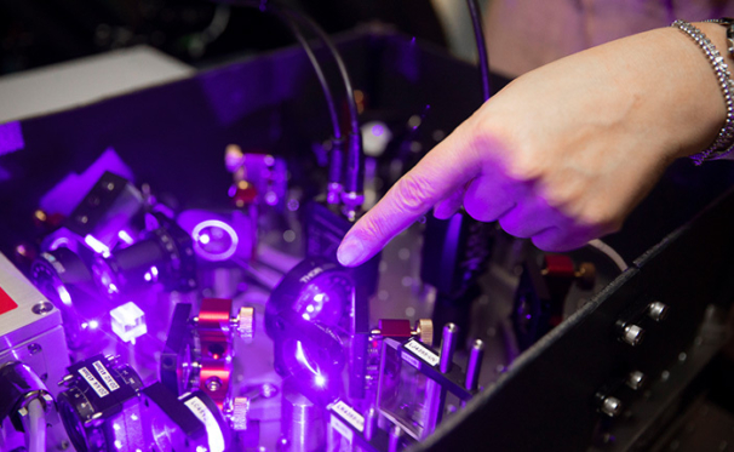 A Harvard lab where quantum physics is studied.
Harvard University
Amazon Web Services (AWS) is forming a research alliance with Harvard University to address challenges associated with building quantum networks.  
The initiative provides funding to support scientific research at the Harvard Quantum Initiative (HQI). AWS will aid faculty-led research projects at HQI in quantum materials, integrated photonics, and quantum memories. One important research goal is finding out how to store and transmit quantum information over long distances.
AWS is also providing funding to Harvard's Center for Nanoscale Systems so that it may upgrade its quantum fabrication capabilities.  
In addition, AWS is working with Harvard to create a structure for recruiting and training a quantum workforce. To bolster its efforts, the company has established the "AWS Generation Q Fund at the Harvard Quantum Initiative." The fund enables HQI to offer new fellowship programs for graduate students and postdoctoral researchers willing to train future quantum scientists. 
The effort seeks
to remedy the emerging shortfall of qualified quantum professionals.
"We're in a unique position to contribute: Essentially, all major quantum research centers in the US and abroad have several faculty members and group leaders who have been educated at Harvard," said HQI co-director Mikhail Lukin.
Harvard's attempts to strengthen the quantum workforce go together with its new Ph.D. program in Quantum Science and Engineering, announced just last year. Both initiatives aim to create a strong foundation for future industry endeavors.  
Harvard Provost Alan M. Garber said: "By working together, academia and industry can accelerate discovery and technological progress. Through this alliance with AWS, we will bring scientific scholarship and education to bear on some of the most exciting frontiers in quantum science.
"Together we will advance the goals of the Harvard Quantum Initiative, an interfaculty initiative that exemplifies the rewards of collaboration across different scientific domains."  
Quantum Newsletter
To get the latest Quantum news, research, videos and content, sign up to our newsletter