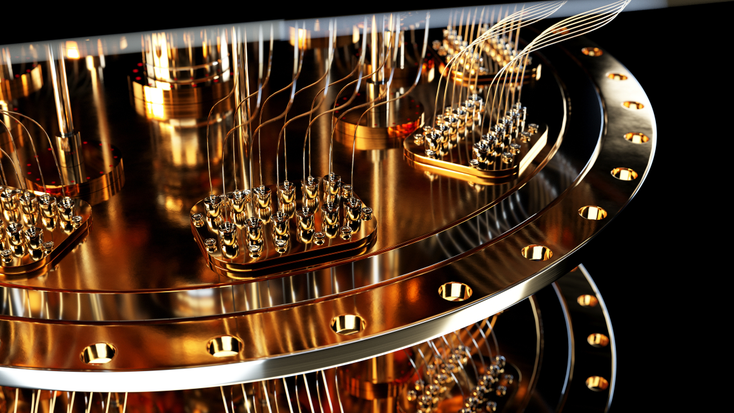 Baidu's 10-qubit Qian Shi quantum computer is located at Baidu's Quantum computing hardware lab in Beijing.
Getty
Baidu launched a superconducting quantum computer and a solution that integrates quantum hardware, software and applications at the Quantum Create developer conference in Beijing this week.
The Chinese AI, internet and cloud computing giant's quantum computer is known as Qian Shi, which means "the origin of all things is found in the heavens." It is located at Baidu's Quantum computing hardware lab in Beijing and has 10 qubits of power.
Qian Shi combines Baidu's hardware platform with the company's software stack and tools designed to make it accessible to users, including quantum algorithms that can be used to design new materials for novel lithium batteries.
In what Baidu claims is an industry first and a step toward commercial quantum computing, it has also launched a cross-platform quantum hardware-software integration product that provides access to various quantum chips via mobile app, PC and cloud. 
Known as Liang Xi, it offers quantum services through private deployment, cloud services
and hardware access. It gives access to Qian Shi, a trapped ion quantum device developed by the Chinese Academy of Sciences and other third-party quantum computers.
"With Qian Shi and Liang Xi, users can create quantum algorithms and use quantum computing power without developing their own quantum hardware, control systems, or programming languages," said Baidu Research Institute for Quantum Computing director Runyao Duan.
"Baidu's innovations make it possible to access quantum computing anytime and anywhere, even via smartphone. Baidu's platform is also instantly compatible with a wide range of quantum chips, meaning 'plug-and-play' access is now a reality."
Baidu Research's Institute for Quantum Computing develops quantum algorithms and applications, communications and networks, encryption and security, error correction, architecture, measurement and control, and chip design.
Enter Quantum Newsletter
To get the latest quantum computing news, advice and insight, sign up to our newsletter