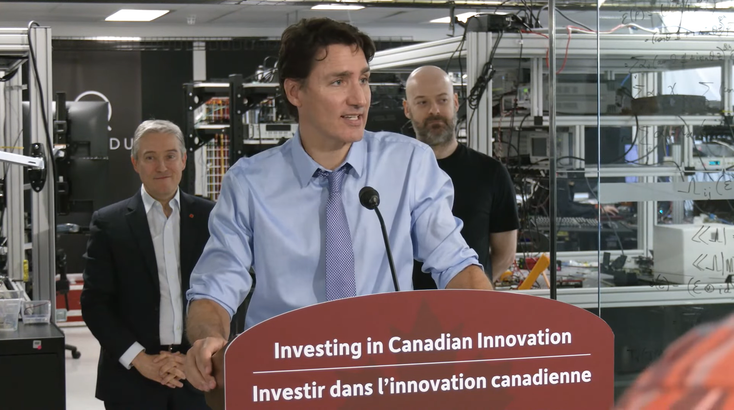 Canadian Prime Minister Justin Trudeau announced the investment during a visit to Xanadu's headquarters.
Government of Canada
Canadian Prime Minister Justin Trudeau has announced a new $30 million (40 million CA$) federal investment to enable Xanadu Quantum Technologies to build and commercialize the world's first photonic-based, fault-tolerant quantum computer.
The quantum computer could provide scientists with extensive capabilities for resolving complex data problems, particularly in industries like finance, transportation, environmental modeling and health.
Photonic quantum computing uses particles of light – photons – as qubits. Unlike superconducting or trapped-ion technology, they can operate at room temperature and do not require bulky refrigeration units.
This $134 million (178 million CA$) project, funded by the government's Strategic Innovation Fund, is expected to create 530 new highly skilled positions in high-tech and quantum computing fields.
"The government's continued investment in quantum technologies has been invaluable to our success. We are proud to be a Canadian company and, with this investment,
are excited to enter the next phase in our mission to build quantum computers that are useful and available to people everywhere," said Xanadu founder and CEO Christian Weedbrook.
Canada's Quantum Strategy
Canada is home to some of the largest quantum tech hubs in the world. 
This year, the Canadian government launched its National Quantum Strategy to ensure it remains a global leader in the rapidly developing quantum sector. 
Announcing the funding for Xanadu, Trudeau mentioned that the country's quantum strategy rests on three pillars: research, talent, and commercialization. He noted that the government relies on the country's universities for its research pillar and companies like Xanadu for its commercialization pillar "so that those leading companies can scale up, create good jobs and economic growth that benefits all Canadians."
As for the strategy's talent pillar, Trudeau noted that the government has recently fortified its Global Talent Stream, a program that allows foreign researchers to enter the country for six weeks. He asserted that Canada's quantum industry would represent nearly $105 billion (140 billion CA$) and more than 200,000 jobs within two decades.
Read more about:
Enter Quantum Newsletter
To get the latest quantum computing news, advice and insight, sign up to our newsletter