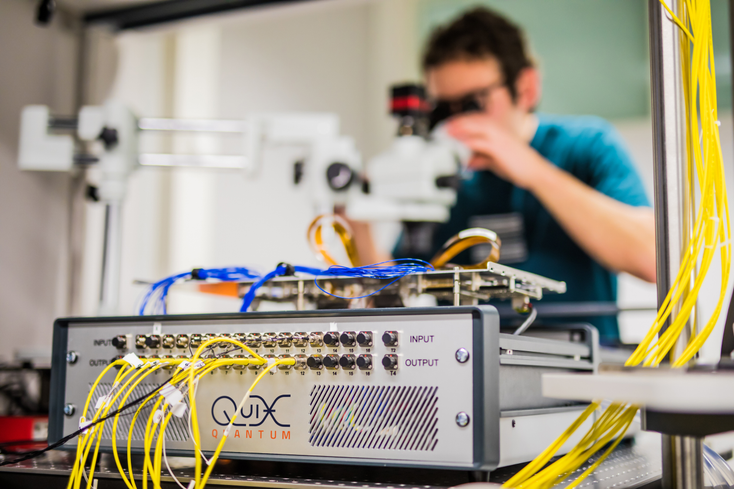 QuiX is investing in more powerful photonic quantum processors.
QuiX Quantum
Dutch quantum processor company QuiX Quantum has closed its seed round investment with $5.59 million with which it intends to develop what it claims will be the world's most powerful photonic quantum computer.
Photonic quantum processors use light to transfer information. According to QuiX, harnessing photonic processors could be more energy efficient than some other quantum technologies as they can operate at room temperature.
QuiX's photonic quantum processors are deployed in the UK, France, Germany and Hungary. Its current technology provides 12 to 20 qumodes – the optical equivalent of qubits. The company intends to use the latest funding to increase the power of its processors to 50 qumodes.
"QuiX Quantum's processors are already…ideally suited to create the most powerful photonic quantum computer we have yet seen," said QuiX Quantum CEO Dr. Stefan Hengesbach. "This round brings us a huge leap forward towards this goal and will enable us to start production of a game-changing 50 qumode
processor."
The company plans to launch its new generation 50 qumode processor in 2023, with possible use cases ranging from medical to infrastructure development.
"The technical terms around quantum computing can be very complicated, however, what we need to keep in mind is just how radical this technology is," added Hengesbach. "It will impact every part of our lives from enabling truly smart cities and developing new drugs to answering some of the most profound questions about the nature of our universe."
The latest investment round was led by PhotonDelta, FORWARD.one and Oost NL.
Read more about:
Quantum Newsletter
To get the latest Quantum news, research, videos and content, sign up to our newsletter