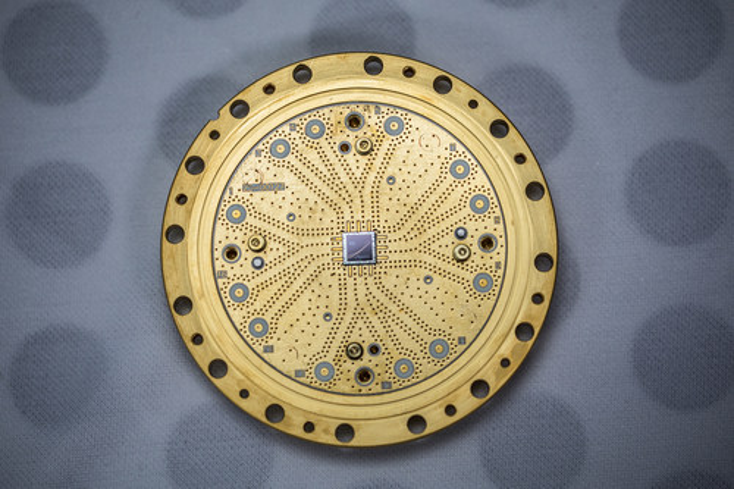 A Rigetti quantum processor.
Rigetti
In its recent Q2 financial report, integrated quantum-classical computing company Rigetti Computing announced its inaugural quantum processing unit (QPU) sale, delivering a 9-qubit unit and related hardware to a national lab.  The sale was priced under $1 million since the client already had a dilution refrigerator, a crucial piece of equipment that is a significant cost factor. The company is already receiving increased inquiries about this specific device, indicating a potential market demand.  
Rigetti also reported that under the leadership of CEO Subodh Kulkarni, it is experiencing swift technical advancements, focusing on improving qubit accuracy using a new design called Ankaa. The quantum computing architecture, which uses a compact grid and adjustable connectors, enables efficient two-qubit gate operations. The company claims the resulting performance enhancements, speed, and accuracy make it especially adept for error correction.
Rigetti used this architecture to develop an Ankaa-1
prototype in its lab with 84 qubits on a single die (a piece of semiconductor with electronic circuits). The company has partnered with Riverlane to optimize error correction techniques on the Ankaa-1 platform. 
Rigetti is continuously improving the Ankaa design, aiming for a median 98% 2-qubit gate fidelity in the subsequent version, Ankaa-2, slated for public release by year-end. In 2024, the company intends to refine Ankaa-2's fidelity to 99%. Once it achieves this enhancement, the company plans to engineer a multi-die system named Lyra by amalgamating four Ankaa-2 units. Combining these units will result in a machine that employs 336 qubits.
"After having launched the Ankaa-1 system internally, we are excited to have our longtime partner, Riverlane, as the first external partner using the system to work on improving error correction techniques on our new architecture," said Dr. Subodh Kulkarni. "We also look forward to making Ankaa-2, our most innovative system to date, available to the general public in Q4 of this year."
Rigetti reported that its total revenue for the three months ended June 30 was $3.3 million, 56% up year-on-year and beating consensus expectations by $0.58 million.
Enter Quantum Newsletter
To get the latest quantum computing news, advice and insight, sign up to our newsletter