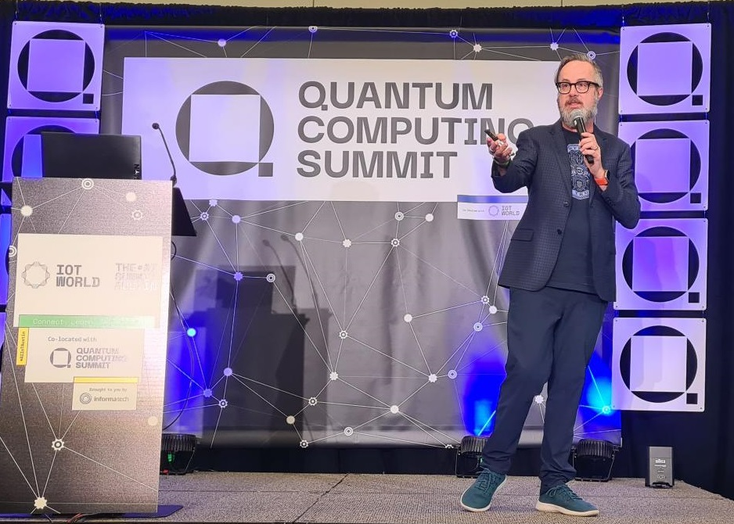 Whurley previously spoke at the Quantum Computing Summit.
Informa
Quantum computing pioneer Strangeworks has completed its $24 million series A funding round. The company made the announcement on the fifth anniversary of its public debut at the SXSW conference.
Strangeworks used the funding to expand its core team by 40% in Q4 2022 and has consolidated its trajectory for the next five years.
The company now aims to expand its quantum computing software portfolio to include other technologies including quantum-inspired, high-performance computing and AI. This reflects how businesses are preparing for and beginning to use quantum computing to and represents the route toward commercialization for the technology.
"Today's announcement represents a significant milestone for Strangeworks," said Strangeworks founder and CEO William 'whurley"' Hurley. 
"Five years ago, I took the stage at SXSW for our first quantum computing keynote. Since that day this team has stayed focused on our core mission, continuously outpacing industry expectations while diligently managing
capital. Raising the Series A from these exceptional investors in this challenging economic climate sends a clear message to the market on where enterprise companies are placing their bets in the race to create quantum value."
The new funding round was led by Hitachi Ventures, with initial investment from IBM and Raytheon Technologies. Follow-on investors include Lightspeed Venture Partners, Great Point Ventures and Ecliptic Capital.
"Hitachi identified quantum computing as a key technology to advance society and develop its own quantum technologies and quantum-inspired solutions," said Hitachi chief technology officer Norihiro Suzuki.
"Quantum computing has the potential to help solve some of the world's most pressing problems, from fighting climate change to curing fatal diseases that require far greater computational power than is currently available in classical computers. The Strangeworks platform removes barriers to access quantum and quantum-inspired solutions creating customer value already today,"  
"Our investment in Strangeworks is well aligned to our mission of solving our customers' most complex challenges," added Dan Ateya, president and managing director at RTX Ventures, the corporate venture capital arm of Raytheon Technologies. 
"We believe Strangeworks' platform and their ability to make quantum and high-performance computing more accessible can support a wide range of applications in the aerospace, defense, and commercial sectors."
Read more about:
Enter Quantum Newsletter
To get the latest quantum computing news, advice and insight, sign up to our newsletter