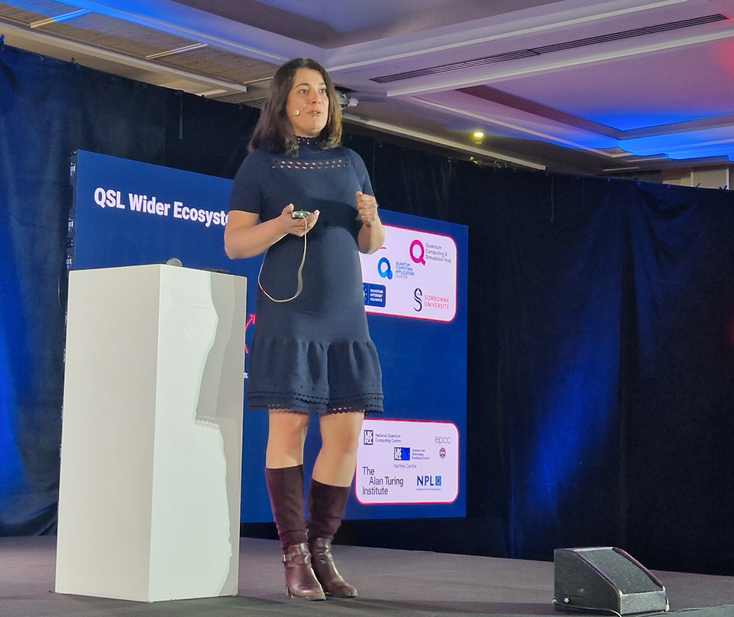 NQCC chief scientist Elham Kashefi said a quantum program "takes a village to raise it."
Berenice Baker
Quantum computing is still at a pre-commercial stage, meaning some early use cases have tried to fit around the problems current quantum processors can solve rather than quantum meeting end-user priorities.
That is set to change as a U.K. quantum software lab launched last month aims to redress this by ensuring its solutions target industry "pain points."
The U.K. National Quantum Computing Centre (NQCC) and the University of Edinburgh launched the Quantum Software Lab last week. Speaking at the Q2B conference in Paris this week, NQCC chief scientist Elham Kashefi, told the audience that, as people say of children, a quantum program "takes a village to raise it."
"We have been trying to get all the various expertise together and today we have 30-plus members who are actively working," she said. "Our approach is very much reverse approach, business to quantum, or B2Q. We believe now is the time to bring in an end user's pain point and try to understand it rather than turn it into a bunch of
code and run it."
Kashefi said the lab intends to embrace a startup culture but in academia.
"Bringing five professors to work together is even harder than building a quantum computer!" she said. "But we are doing that and trying to make sure we go through the cycle of understanding what use case is and what the mathematical problem defines that use case. That becomes a very interesting research problem that comes from outside rather than from our head to be pushed go back to the industry."
Kashefi said the NQCC software lab works by bringing a feasibility study to the community and working through which hardware and applications would best solve the problem. Without investors involved requiring a return on investment, they can be hardware-agnostic.
"I wouldn't have been able to learn all this if it weren't for all the other colleagues and senior people who are going to lead it this," Kashefi added. "It is not going to be a one-woman show, it's a bunch of people that have come together from very different backgrounds; colleagues from existing technologies like high-performance computing, cybersecurity and noise analysis, and we put all of these things together to see if we can speak one language and work together."
Kashefi ended by saying that getting engaged industry representatives that were happy to sit down and share their problems with a domain expert in a "reverse pitch" was a difficult job. To this end, the NQCC has launched its SparQ applications discovery program to act as a trusted node for UK-based companies and researchers interested in exploring the potential of quantum computing.
Read more about:
Enter Quantum Newsletter
To get the latest quantum computing news, advice and insight, sign up to our newsletter