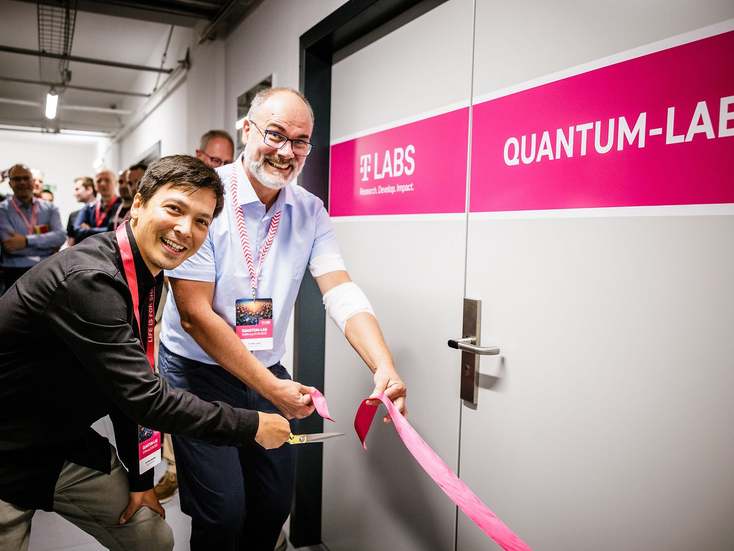 Oliver Holschke and Marc Geitz open the Deutsche Telekom quantum lab.
Deutsche Telekom/Reinaldo Coddou H. 2023
Deutsche Telekom has opened a quantum research facility in Berlin. Known as the Quantum Lab, it is dedicated to the development and integration of quantum technology into commercial telecommunications networks. It is equipped with the infrastructure for quantum-optical experiments and is connected to over 1,200 miles of fiber optic network, which will enable the company to test and develop quantum communication solutions.
Deutsche Telekom is working with several partners at the Quantum Lab, including the Technical Universities of Berlin, Dresden, and Munich, and German research organization the Fraunhofer Institute. The company is also inviting other research and innovation organizations to collaborate on the project.
"The opening of our Quantum Lab is a clear signal that we are serious about bringing quantum technology to the commercial networks of telecommunications providers," said Deutsche Telekom chief technology and innovation officer Claudia Nemat.
"We believe that quantum technology
has the potential to revolutionize the way we communicate and collaborate. The Quantum Lab will help us to accelerate the development and deployment of quantum solutions for our customers."
Research at the Quantum Lab will focus on the use of quantum entanglement, which researchers are using to develop unhackable secure communication channels. They are also using quantum entanglement to improve the performance of communication networks, making them faster, more reliable and more secure.
Deutsche Telekom is also involved in several other quantum initiatives. In February 2023, the company announced its leading role in
the European Commission's PETRUS project
. The PETRUS project is developing a trans-European quantum communications infrastructure, which will allow for the secure exchange of data across the European Union.
Enter Quantum Newsletter
To get the latest quantum computing news, advice and insight, sign up to our newsletter