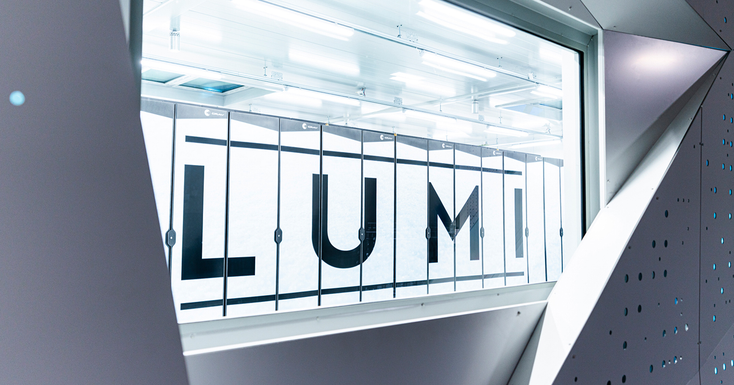 LUMI, Europe's most powerful supercomputer, is located in the CS data center in Kajaani.
CSC
Researchers from Finland's VTT Technical Research Center recently connected a modest quantum computer to Lumi, Europe's most powerful classical supercomputer. Known as Helmi, Finnish for pearl, the five-qubit device is Finland's first quantum computer. The research team aims to prove whether combing a quantum computing device with a robust supercomputer helps solve complex problems more quickly. 
Researchers still need to determine the best way to efficiently divide a computation between a quantum and a traditional computer. Their current goal is to develop a hybrid algorithm that assigns calculations to Lumi and Helmi based on which calculations they can handle best. The algorithm must also enable Lumi to integrate the results of any quantum calculations performed by Helmi.
Helmi is a superconducting quantum computer that processes data using tiny wire circuits that conduct electricity without wasting energy, the same technology used in quantum computers produced by IBM and Google. As of
last month, researchers who submit a program to Lumi can also ask the supercomputer to instruct Helmi on what to do. They can even receive a report of Helmi's results.  
While many researchers are focused on improving quantum computers, they also suggest that even a rudimentary quantum computer with a low number of qubits paired with a supercomputer can offer substantial benefits. The Finnish researchers intend to make Helmi ten times larger in the next few years.
Several research teams with large quantum computers are adopting the hybrid strategy. However, Finland is one of the few countries in the world, an the first in Europe, to have connected a quantum computer and a supercomputer. It has leveraged this special status to create a powerful supercomputer with quantum capabilities. 
Researchers expect this type of integrated research effort will hasten progress in quantum computers, even though they're yet to be commercially feasible. VTT researchers are already constructing a 20-qubit quantum computer with the capacity to upgrade to a 50-qubit model in 2024. 
Enter Quantum Newsletter
To get the latest quantum computing news, advice and insight, sign up to our newsletter