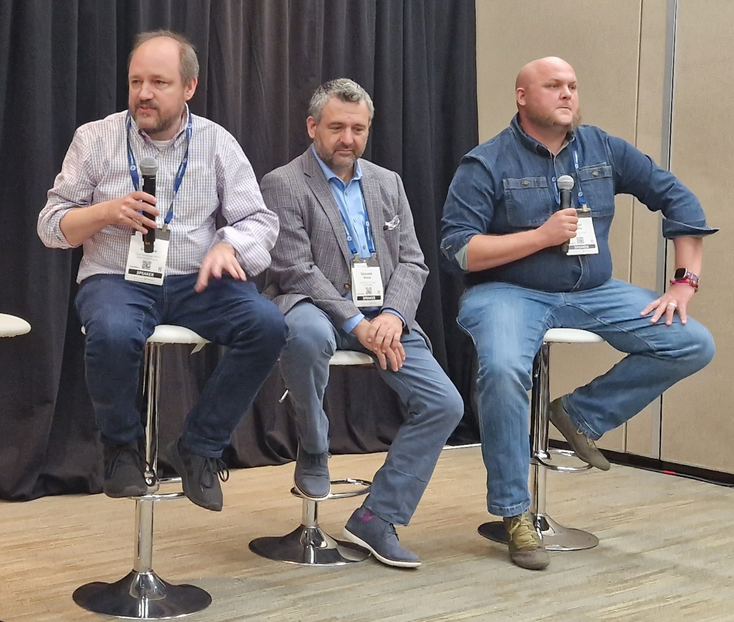 L-R: Nate Gemelke, Steve Wood and Peter Lemke
Berenice Baker
Quantum computing can best benefit organizations when it fits into a value chain of hardware, software and applications. Several programs are encouraging cross-pollination and collaboration across sectors to get the best value from its introduction.
However, speaking on a panel at Applied Intelligence Live! In Austin, QuEra chief technology officer Nate Gemelke said that this is a hard task, not least because quantum isn't an industry itself, it's an emerging ecosystem.
While the principles of quantum mechanics were set out nearly 100 years ago and the idea of quantum computing was first mooted in the 1980s, the quantum ecosystem still relies on advancements in fundamental science.
"The quantum ecosystem needs to identify qubits that not only work but also preserve quantum information," he said. "It needs to be scalable technology that can go the distance. Until recently, I don't think that we've put our finger on any technologies that have a hope of doing that."
"The collaborative things that
need to happen are in a transitionary state as we're still working on the basic science, figuring out what the right qubits are in the world of engineering. There is still the need to understand the basic science and how to translate that into actual devices."
Gemelke said that QuEra prioritized training people to build and operate quantum computers to scale the process and drive usage and adoption to enable the development of algorithms.
Steve Wood, senior director of neuromorphic technologies development at State University of New York (SUNY) Polytechnic Institute's Center for Nanoscale Science and Engineering agreed that reskilling is vital for the successful introduction of quantum.
"Folks who are in adjacent computing areas are great targets for re-skilling," he said. We recently held a practical quantum computing workshop that was open to the public where people could register and learn for free how to develop some of these skills.
"I'm very familiar with our local ecosystem in New York, but I would tell everybody that this is so hot, and the money is so large that your states are going after this money as well. For instance, I know that our National Science Foundation and the Swiss National Science Foundation have recently entered into a memorandum of understanding to facilitate all of these objectives."
Wood also highlighted the importance of industry, government and academic collaboration in advancing quantum research.
SUNY hosts the Griffiss Institute, whose quantum advancement center is run in partnership with the Air Force Research Lab (AFRL), enabling overseas researchers who would not otherwise be able to work with the Air Force to participate in research.
He added that U.S. Government funding initiatives are crucial to advancing the quantum ecosystem.
"In terms of funding, the National Quantum Initiative has gone from $400 million in 2019 to over $800 million this year. It has doubled in just a matter of four years and hopefully that will continue as needed," he said.
BP digital science lead Peter Lemke said that heavy industries, such as BP's oil, gas and alternative energy sector, are used to invest and carry out work from which there will be no return on investment for decades, affecting an entire generation of the workforce.
"My big advice is if there are skill sets that don't even exist in academia, we need to invent that as an industry," Lemke said. "Quantum is not the first time this has been needed in the oil and gas industry. The energy industry started processing analog seismic data in the 1940s, so what's five years?"
"My colleague is taking these big optimization problems and decomposing them into the types of constraints that might benefit from quantum. This is starting to raise awareness of skill sets that we don't have in the company, and there are no classes on this yet.
"We're making decisions on our assets that will last a generation, and if we want those assets to be as competitive as possible, we'd better leverage the best exotic tech out there today."
Enter Quantum Newsletter
To get the latest quantum computing news, advice and insight, sign up to our newsletter