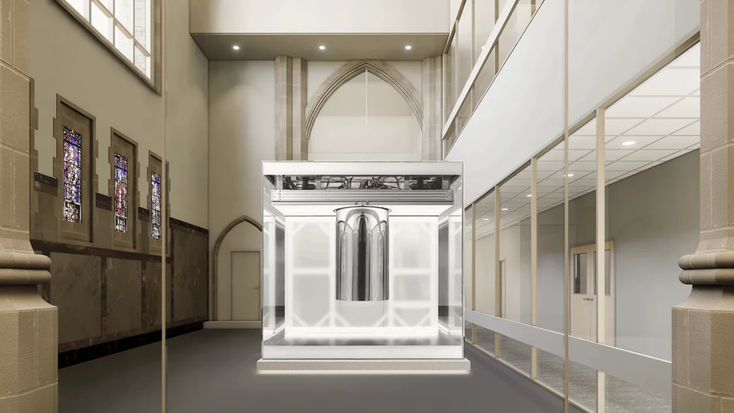 A rendering of the first IBM Quantum System One on a university campus being installed at RPI.
IBM
Rensselaer Polytechnic Institute (RPI) and IBM have broken ground on a program to install the first-ever IBM Quantum System One
. This $150 million collaboration aims to expand educational and research opportunities in quantum computing.
"We are celebrating a new era at RPI. Today's groundbreaking is an enormous win, not just for RPI, but for the region. It is part of a surge of regional strength in all aspects of computing. Today we are headed even deeper into the future. New York's Hudson River Valley has the potential to become Quantum Valley," said RPI president Marty  Schmidt.
The ceremony showcased the IBM Quantum System One chandelier, a golden structure that houses the quantum processor chip. Curtis Priem, a significant contributor to the project, received the Philanthropic Pioneer Award for his efforts in advancing technological innovation and benefiting RPI students.
Scheduled for completion in January 2024, the quantum computer will be housed at RPI's Voorhees
Computing Center. Preparations are ongoing to accommodate the machine, which weighs approximately five tons and has specific construction and environmental needs.
The system will be powered by IBM's 127-qubit Quantum Eagle processor, recently proven capable of performing utility-scale calculations. IBM describes utility-scale as computations beyond the reach of classical computing methods.
The RPI-IBM partnership aims to develop new quantum curricula, workforce training, and extensive research opportunities. The IBM Quantum System One will be part of RPI's new Curtis Priem Quantum Constellation, a faculty center focused on quantum research. This center will also facilitate the hiring of additional faculty experts in quantum computing.
IBM will offer research support, while regional academic and industry partners will have access to this groundbreaking research tool. This initiative coincides with RPI's 200th anniversary in 2024, adding another milestone to its legacy in technological advancement.
Enter Quantum Newsletter
To get the latest quantum computing news, advice and insight, sign up to our newsletter