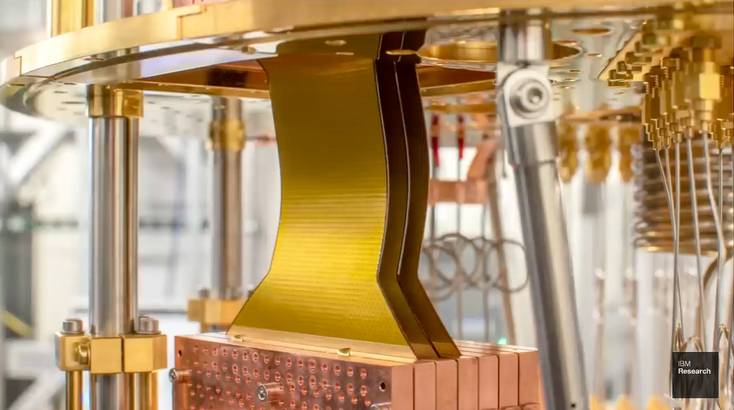 IBM plans to develop a 100,000 qubit quantum processor by 2023.
IBM
IBM has released more details of its plan to develop a
100,000-qubit commercial quantum computer
by 2033 in partnership with the University of Tokyo and the University of Chicago and co-funded by Google that the company announced at the G7 Summit in Tokyo.
Building on the
it released last year, IBM said it needs to make advances in four key areas to achieve a practical 100,000-qubit supercomputer: quantum communication, middleware, quantum and error correction. These would need to be supported by an appropriate supply chain.
IBM calls its approach quantum-centric supercomputing, integrating quantum and classical computers the same way current computers combine CPUs and GPUs, to "tackle the world's biggest problems."
IBM said that it needs three building blocks for quantum-centric supercomputing. The first is its IBM Quantum System Two system that uses the 433-qubit Osprey processor, which it plans to make available this year. It is designed so that multiple System Twos can
be connected for increased processing power.
The second is the 133-qubit Heron processor, a redesign of previous processors with a two-qubit gate that enables higher performance and will enable modular connected processors.
The third is middleware for quantum, a set of tools to run workloads on both classical and quantum processors. This includes tools for decomposing, parallel execution, and reconstructing workloads to enable efficient solutions at scale.
"Over the past several years, IBM has been at the forefront of introducing quantum technology to the world," said IBM chair and CEO Arvind Krishna. "We have achieved significant progress along our roadmap and mission to globally establish useful quantum technology, so much so that we can now, with our partners, truly begin to explore and develop a new class of supercomputing anchored by quantum."
In a series of Twitter posts about the development roadmap and the research funding, IBM vice-president of quantum Jay Gambetta said: "With the expertise in the University of Chicago we will be able to work together towards developing better quantum interconnects to enable scaling of the quantum processors beyond single chips, as well as software to orchestrate workloads over distributed systems.
"The University of Tokyo has demonstrated leadership with the creation of the Quantum Innovation Initiative Consortium (QIIC) which brings together academia, government, and industry to develop quantum computing applications. The expanded test bed system they have as part of a partnership with IBM will guide the development of new componentry for modular quantum systems."
Read more about:
Enter Quantum Newsletter
To get the latest quantum computing news, advice and insight, sign up to our newsletter