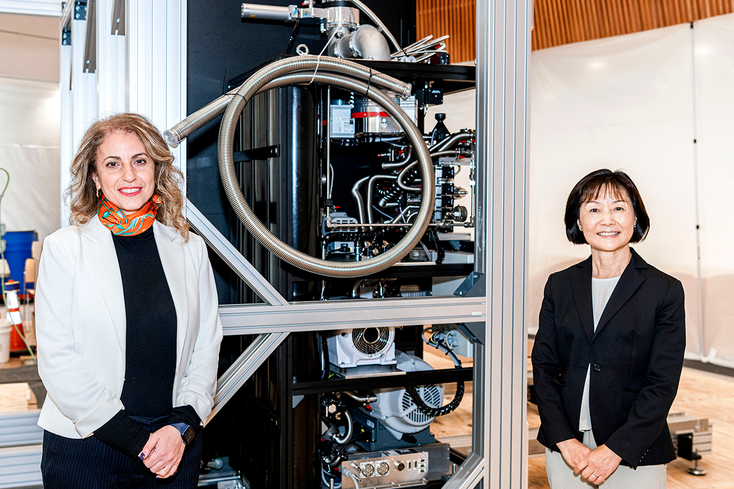 Lara Jehi and Ruoyi Zhou at the site of the IBM Quantum System One on Cleveland Clinic's Main Campus.
Cleveland Clinic/IBM
IBM has begun the installation of an IBM System One quantum computer at the main campus of Cleveland Clinic, an academic medical center in Cleveland.
This project, scheduled to be completed in early 2023, represents the first private sector onsite, IBM-managed quantum computer in the U.S. and the first quantum computer dedicated to health care, according to IBM.
The two organizations announced a 10-year partnership, the Cleveland Clinic-IBM Discovery Accelerator, in 2021, which aims to use high-performance computing to accelerate biomedical research.
The center is expected to use several other IBM tools including its generative toolkit for scientific discovery, cloud-based AI modeling platform RXN, AI tool Deep Search and high-performance hybrid cloud computing technologies.
The Discovery Accelerator also serves as the technology foundation for Cleveland Clinic's Global Center for Pathogen Research and Human Health, which aims to use advanced computational technology to advance research into
treatments and vaccines.
IBM and Cleveland Clinic have already begun Discovery Accelerator projects including a research study developing a quantum computing method to screen and optimize drugs targeted to specific proteins. They also are working on improving a prediction model for cardiovascular risk following non-cardiac surgery, and using artificial intelligence to search genome sequencing findings and drug-target databases to find existing drugs that could target conditions such as Alzheimer's.
The collaboration will also provide training and certification programs in data science, machine learning and quantum computing to enable medics to carry out advanced research using the new technologies.
IBM Research – Cleveland Clinic partnership director Ruoyi Zhou called the move "a step change in the way we solve scientific problems is on the horizon."
"At IBM, we're more motivated than ever to create with Cleveland Clinic and others lasting communities of discovery and harness the power of quantum computing, AI and hybrid cloud to usher in a new era of accelerated discovery in healthcare and life sciences," she said.
"The current pace of scientific discovery is unacceptably slow, while our research needs are growing exponentially," said Cleveland Clinic's chief research information officer Lara Jehi.
"We cannot afford to continue to spend a decade or more going from a research idea in a lab to therapies on the market. Quantum offers a future to transform this pace, particularly in drug discovery and machine learning."
Enter Quantum Newsletter
To get the latest quantum computing news, advice and insight, sign up to our newsletter