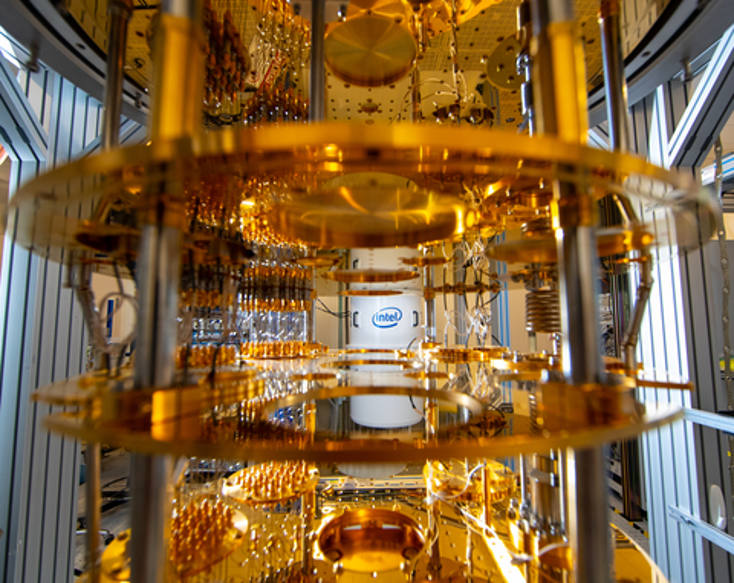 An Intel quantum computer
Intel Corporation
Intel has released version 1.0 of its Quantum Software Development Kit (SDK), a full quantum computer simulator that can also interface with genuine quantum hardware. The company released a beta version last year.
As well as enabling developers to program quantum algorithms in simulation, the SDK works with Intel's Horse Ridge II control chip and will be compatible with the company's quantum spin qubit chip, due for release next year.
"The Intel Quantum SDK helps programmers get ready for future large-scale commercial quantum computers," said Intel Labs director of quantum applications and architecture Anne Matsuura.
"It will not only help developers learn how to create quantum algorithms and applications in simulation, but it will also advance the industry by creating a community of developers that will accelerate the development of applications, so they are ready when Intel's quantum hardware becomes available
The SDK uses a programming interface based on C++, a programming language familiar
to many developers. The runtime environment can be optimized for hybrid quantum-classical algorithms and the backend can represent different numbers of generic or Intel-specific qubits.
One backend is a high-performance open-source generic qubit simulator, Intel Quantum Simulator, capable of simulating more than 40 qubits on multiple nodes. The second simulates Intel's quantum dot qubit hardware.
Intel is using the SDK internally to co-design quantum hardware and software in tandem in a bid to accelerate system development.
The Deggendorf Institute of Technology is using the SDK to explore a fluid dynamics problem important for aerodynamics and hydrodynamics.
Science and engineering research company Leidos is exploring applications like quantum machine learning and simulation of materials, and astrophysics problems like quantum teleportation, black holes and wormholes.
"Leidos has enjoyed the versatility of their hardware-agnostic simulation for software development and comparative analysis," said Leidos quantum technology lead and research scientist Elizabeth Iwasawa.
"Even with the beta version, we explored a broad variety of research topics from materials modeling and quantum machine learning to theoretical research into thermofield double states."
Quantum Newsletter
To get the latest Quantum news, research, videos and content, sign up to our newsletter