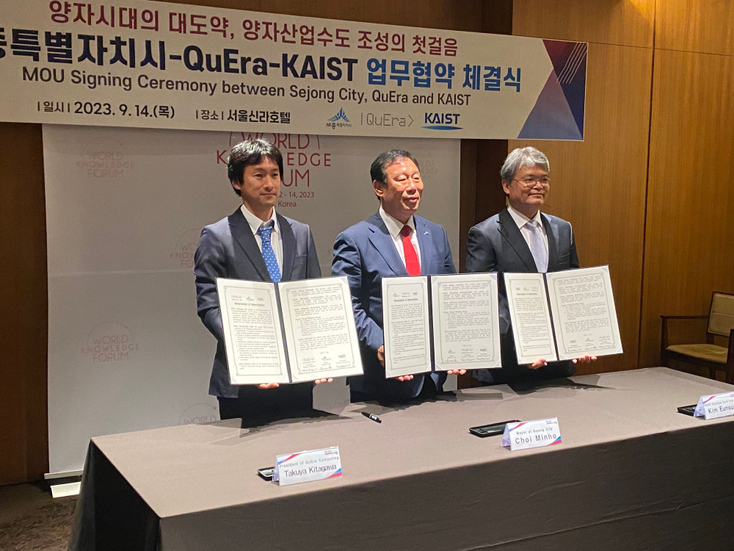 The companies announced the partnership during the 24th World Knowledge Forum Sejong session.
QuEra
Neutral-atom quantum computer company QuEra Computing has partnered with Sejong Special Autonomous City and the Korea Advanced Institute of Science and Technology (KAIST) to help foster a quantum industry ecosystem in Sejong City, Korea.
The companies announced the partnership during the 24th World Knowledge Forum Sejong session. Sejong City is emerging as a nexus for cutting-edge R&D, with institutions like KAIST bolstering its innovative ethos.
Boston-headquartered QuEra boasts the first publicly accessible neutral-atom quantum computer, offering users its Aquila-class machines with up to 256 qubits and has ambitions to scale further. KAIST, Korea's premier science and technology institution, aims to encourage groundbreaking advancements and entrepreneurship.
The Korea-U.S. Joint Statement on Quantum Information Science and Technology Cooperation, signed during President Yoon Seok Yeol's Boston visit to the U.S. in April, helped ignite the collaboration between QuEra, Sejong and KAIST.
South
Korea aims to carve a niche in the quantum economy. Central to this vision, Sejong City aims to cultivate quantum computing expertise and technology, positioning itself as a focal point for future national quantum endeavors.
The partnership between the three entities encompasses:
Building quantum computing R&D infrastructure for industry.

Developing educational programs to cultivate quantum experts.

Cooperation for international academic discourse.

Joint pursuits of government public procurement projects.

Endeavors to promote awareness of quantum computing's significance in the academic and corporate arena.
"By combining QuEra's cutting-edge neutral-atom quantum computing capabilities with Sejong City's visionary infrastructure and KAIST's academic excellence, we are helping shape the future of quantum computing in South Korea and beyond," said QuEra Computing CEO Alex Keesling. 
"Together, we will unlock new possibilities in quantum science, from research and development to education and public awareness."
Read more about:
Enter Quantum Newsletter
To get the latest quantum computing news, advice and insight, sign up to our newsletter