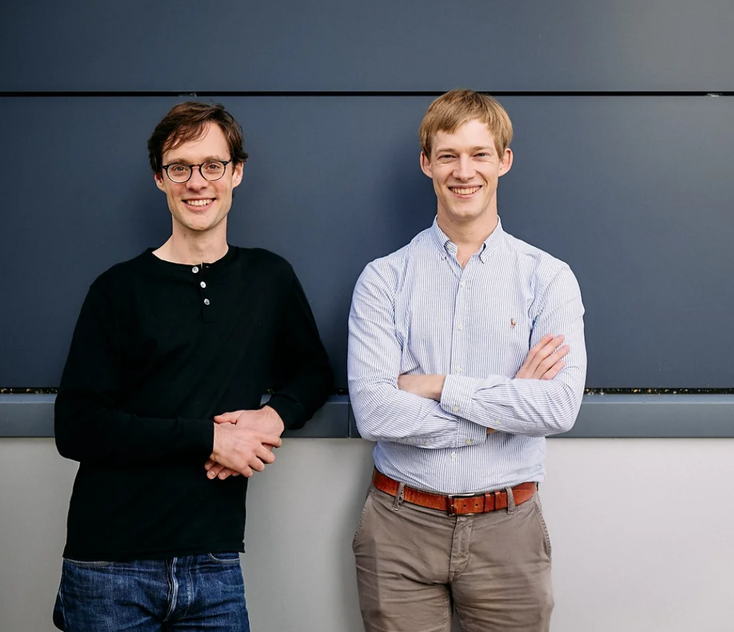 Oxford Ionics founders Tom Harty and Chris Ballance.
Oxford ionics
UK-based quantum technology startup Oxford Ionics has raised $36.5 million (£30 million) in a Series A round of funding to help resolve scalability issues relating to its trapped-ion approach to quantum computing.
The funding round was led by Braavos Investment Advisers and Oxford Science Partners. Lansdowne Partners, Prosus Ventures, 2xN, Torch Partners, and the founder of semiconductor company Arm, Hermann Hauser, are among the other investors in the round.
The trapped ion approach toward quantum computing entails suspending charged atomic particles –ions – in electromagnetic fields to store qubits. Conveying quantum information requires coordinating the movement of these ions in a common trap.
However, this approach requires expensive and complex lasers to add qubits. 
Oxford Ionics uses its patented Electronic Qubit Control (EQC) system to manage qubits in its processors rather than lasers. According to the company, EQC combines trapped ion quantum processor performance with the scalability
and dependability of silicon chip-based electronics. 
"If we're to identify and unlock the true power and potential of quantum computing, we need to crack the critical issues that are holding it back – scalability, integration, and performance," said Oxford Ionics co-founder Chris Ballance.
"Our unique trapped-ion approach has been developed to address all three. At Oxford Ionics, we're focused on building technologies that will help quantum computing finish the race, not just take small, incremental steps."
Oxford Ionics aims to make its processor able to integrate into a semiconductor chip, making it possible for any of the world's current semiconductor fabs to produce these chips quickly and at scale.
The startup has worked with semiconductor manufacturer Infineon Technologies on a regular manufacturing line to show the effectiveness of this strategy in a real-world setting.
Quantum Newsletter
To get the latest Quantum news, research, videos and content, sign up to our newsletter