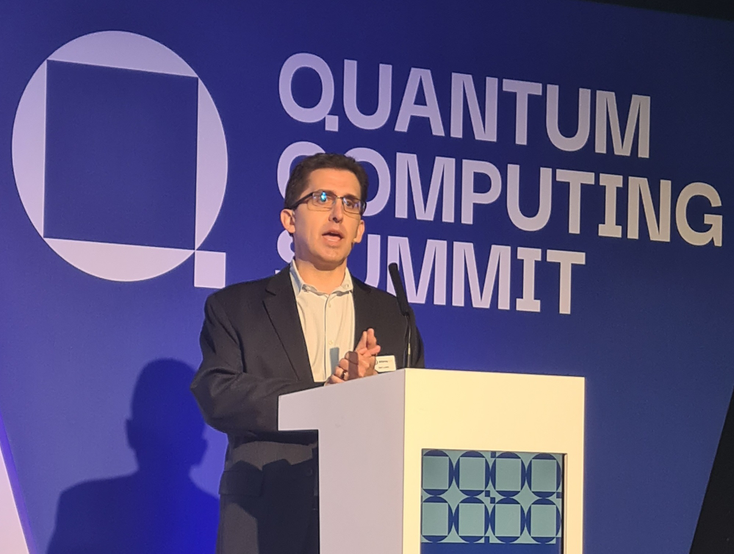 Omdia senior quantum computing analyst Sam Lucero.
Informa
Quantum computing software is currently limited to a few impactful algorithms and current quantum computers require improved error correction to scale up to solving significant business problems.
However, according to the "
State of the Quantum Computing Software Market 2023
" report by research organization Omdia, the current generation of quantum computers still offers some advantages over classical computing alone, and most software vendors have set out a route to fault tolerance.
Led by senior quantum computing analyst Sam Lucero, Omdia conducted a research project examining quantum computing software's current state and likely future trends. This research was conducted from January to June 2023. It consisted of primary research interviews with 14 quantum computer vendors, supported by secondary research and additional research conducted as part of Omdia's ongoing quantum computing research program.
The abridged key findings from this project are as follows:
Lack of impactful quantum computing
algorithms
There are approximately 60 quantum computing algorithms, of which about 10 are used most often. Unfortunately, the industry needs more algorithms that show potential for an exponential advantage over classical computing. Only Shor's Algorithm for factoring demonstrates a true exponential speedup by exploiting the structure of factoring computations.
Need for quantum error correction
There is extensive work to find new quantum error correction codes that offer a higher error threshold while providing other necessary capabilities. Through a combination of reducing the physical error rates of qubits and increasing the error threshold of quantum error correction codes, the industry is hoping to enable fault-tolerant, logical. Results published earlier in 2023 by Google Quantum AI hint that this may be possible in practice.
NISQ-era quantum computing will provide some advantage
A key industry debate is whether current noisy intermediate scale quantum (NISQ) era quantum computers can show some type of advantage over classical computers or at least tangible benefits at a commercial level. IBM Quantum's June 2023 announcement of research results showing error mitigation techniques producing a more accurate physical simulation calculation than could be obtained on a classical supercomputer strongly suggest that this question is settled.
Bridges to a fault-tolerant quantum computing market
While quantum computing software vendors struggle with revenue growth in the NISQ era, they are using economic "bridges" to supplement investor funding. First, most vendors provide and monetize consultative services to help their customers understand and develop quantum computing capabilities.
Second, some independent software vendors (ISV) have recently expanded their market definition to focus on the wider "quantum-inspired" opportunity using current classical hardware.
Third, in at least one case (Q-CTRL), ISVs have expanded from a quantum computing focus to include other quantum-relevant markets, such as, in Q-CTRL's case, quantum sensing.
There will be consolidation
There are almost certainly too many ISVs in the market to last over the long term. Of the 239 quantum computing vendors listed in Omdia's 2Q23 Quantum Computing Market Tracker, 86 are software vendors. The number of new quantum computing firms founded dropped sharply in 2022 compared to 2021, and none of the new 2022 firms were ISVs. Customers need to evaluate the funding posture of startup and scale-up vendors, as not all these companies are likely to exist in a few years.
Quantum computing vendor landscape
The quantum computing software sector is diverse; software is provided not only by ISVs, but also by consultants, hyperscalers, control system vendors, and quantum processing unit (QPU) vendors. ISVs are distributed evenly among North America, Europe, and Asia & Oceania, with one in Latin America and three in the Middle East & Africa. Compared with non-ISV quantum computing vendors, the ISVs tend to be small, privately held firms that have been founded more recently.
This is an abridged version of the Omdia report's key findings. Access the full report here:
Enter Quantum Newsletter
To get the latest quantum computing news, advice and insight, sign up to our newsletter