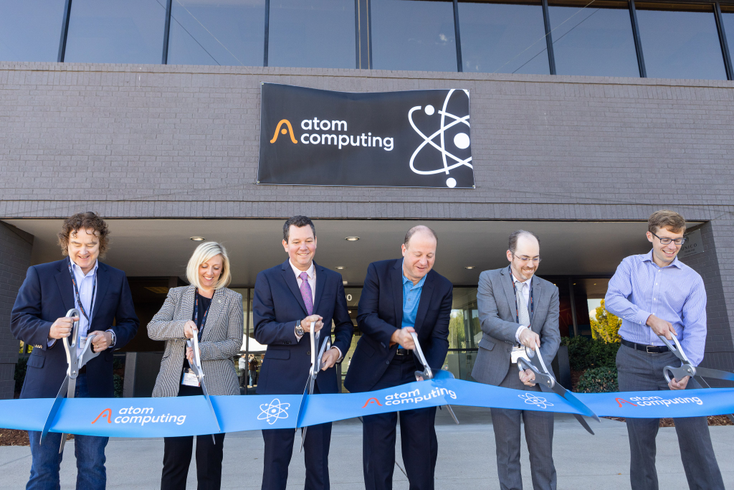 Atom Computing has opened a new R&D facility in Colorado.
Atom Computing
California quantum startup Atom Computing yesterday opened its new R&D facility in Boulder, Colorado, where it will build future generations of its optically trapped neutral atom quantum computers.
The company built a proof-of-concept 100-qubit prototype system in Phoenix in 2018, using $5 million in seed funding. It raised $60 million through Series B financing earlier this year with which it intends to build its second-generation systems capable of running commercial use cases at the new facility.
Atom Computing's qubit technology stores information using the nuclear spin states of Strontium-87 atoms. Using this technology, the Phoenix system set an industry record qubit coherence time of 40 seconds earlier this year. Coherence is the length of time a qubit can maintain its quantum state.
"Leading researchers and companies are choosing to partner with Atom Computing to develop quantum-enabled solutions because our atomic arrays have the potential to scale larger and faster than other qubit
technologies," said Atom Computing CEO Rob Hays.
"We expect to invest $100 million in Colorado over the next three years as we develop our roadmap and hire more employees to support those efforts."
Atom Computing scientific advisor and University of Colorado (CU) professor Jun Ye said that it was gratifying to see recent CU graduates emerge as the early trailblazers of the rapidly growing quantum industry.
"This creates a powerful ecosystem for the best science and technology to develop side-by-side, providing outstanding opportunities for Colorado students to lead the next wave of innovations in quantum research and the market," Ye said.
"We are excited to welcome Atom Computing to Boulder, which is already one of the world's most booming centers for the quantum computing sector," Colorado Gov. Jared Polis added.
"The addition of Atom Computing helps further position Colorado as an economic leader for the next big wave of technology development and will create more good-paying jobs for Coloradans."
Quantum Newsletter
To get the latest Quantum news, research, videos and content, sign up to our newsletter