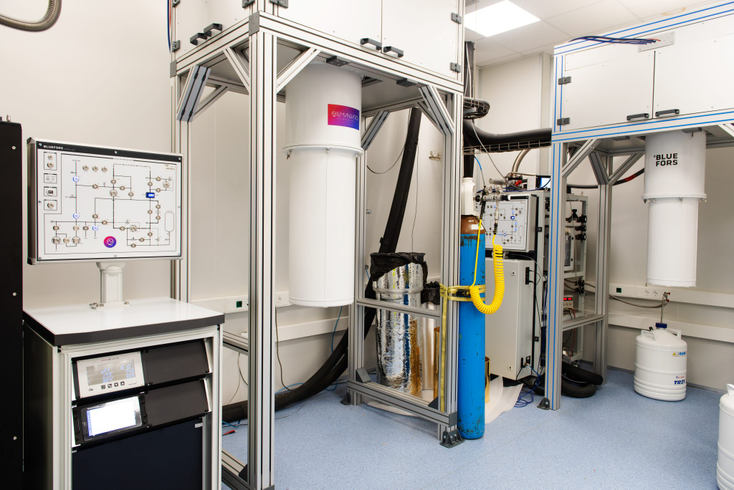 Qilimanjaro will initially offer access to a 5-qubit processor located in its laboratory.
Qilimajaro/IFAE Laboratory
Quantum computing services company Qilimanjaro Quantum Tech and technology business group GMV have launched Quantum-as-a-Service (QaaS) access to Spain's first quantum computer.
This would enable Spain's business and research community to access QuantWare's five-qubit Gen0 superconducting quantum processor, the first quantum computer entirely under Spanish control, via the cloud using Qilimanjaro's software.
This processor is temporarily installed in Qilimanjaro's laboratory as the first step of a program that will see a total of seven quantum processors provided to the Barcelona Supercomputing Center (BSC). The program will culminate in the installation of a 30-qubit Gen6 quantum processor at BSC by the end of 2025.
"This first delivery marks a significant milestone as Qilimanjaro becomes a pioneer in granting access to Spain's first quantum computer through an HPC center," said Qilimanjaro CEO Marta Estarellas.
"We are immensely proud not only to achieve this feat together with GMV but also
to partner with an exceptional group of European providers. Together, we have demonstrated the power of collaboration and innovation to push the boundaries of quantum technology."
Qilimanjaro is to provide a full set of utility libraries to enable access to the company's QaaS servers and send executions to the quantum chip. GMV is providing user support.
Once the installation at the BSC headquarters is complete, Spain would have the first purely European quantum computer for public use in southern Europe, an initiative known as Quantum Spain. It will be integrated with Spain's most powerful supercomputer, the MareNostrum 5.
"We celebrate the delivery of the first quantum computer, an essential step for the development of this innovative technology in our country. This processor has been temporarily installed in Qilimanjaro's laboratory while the space in the BSC [data center] is appropriately prepared to host the Quantum Spain quantum computer permanently," said BSC director of operations Sergi Girona.
"This delivery, despite being only the first in a series that will culminate with a 30-qubit quantum computer by the end of 2025, has been a fundamental milestone for the joint venture," said the project lead of the joint venture between Qilimanjaro and GMV Manel Martínez.
Read more about:
Enter Quantum Newsletter
To get the latest quantum computing news, advice and insight, sign up to our newsletter