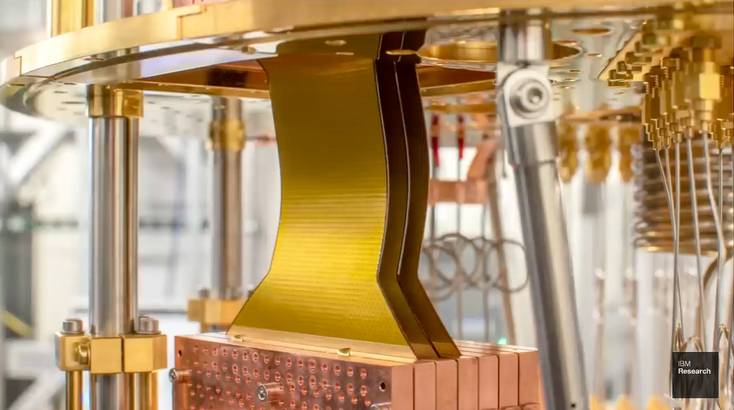 A cryogenic cable in an IBM quantum computer.
IBM
IBM has introduced a suite of "quantum-safe" solutions at its annual Think conference in Orlando, Florida. The technology provides organizations and governmental agencies with a comprehensive solution for navigating the post-quantum era securely, addressing growing concerns that future quantum computers threaten widely used security protocols. 
IBM's quantum-safe technology includes the following set of capabilities to assist clients in getting ready for the post-quantum era:
IBM Quantum Safe Explorer allows organizations to scan source and object code to find cryptographic assets, dependencies, and vulnerabilities. This capability enables them to create a cryptography bill of materials (CBOM), which collects potential risks in a single location.

IBM Quantum Safe Advisor prioritizes risks and analyzes cryptographic posture and compliance. This organizational capability creates a dynamic or operational view of the cryptographic inventory.

IBM Quantum Safe Remediator allows teams to deploy and test best practice-based quantum-safe remediation patterns. This capability will enable teams to understand the potential effects on systems and assets as they deploy quantum-safe solutions.
IBM has also introduced the IBM Quantum Safe Roadmap, a strategic initiative to guide and support clients as they embark on their security transition. This roadmap is a first of its kind from IBM and illustrates advances made in quantum-safe technology. It also outlines the path toward more sophisticated security solutions.   
The IBM roadmap outlines a suite of quantum-safe technologies and milestones to ensure the ongoing development of post-quantum security is in sync with practical quantum computing advancements.
Businesses can use the roadmap to fortify their systems against potential vulnerabilities and achieve cryptographic agility.
IBM's introduction of its Osprey processor is among these milestones. The company unveiled its 433 qubit Osprey processor as part of its IBM Quantum Summit last November, indicating it would be available to IBM Quantum Network members in a few months. The first machine in this family is known as ibm_seattle and is now available to users in what IBM calls an "exploratory" state. At the moment, users can access 413 of the 433 qubits. 
Read more about:
Enter Quantum Newsletter
To get the latest quantum computing news, advice and insight, sign up to our newsletter