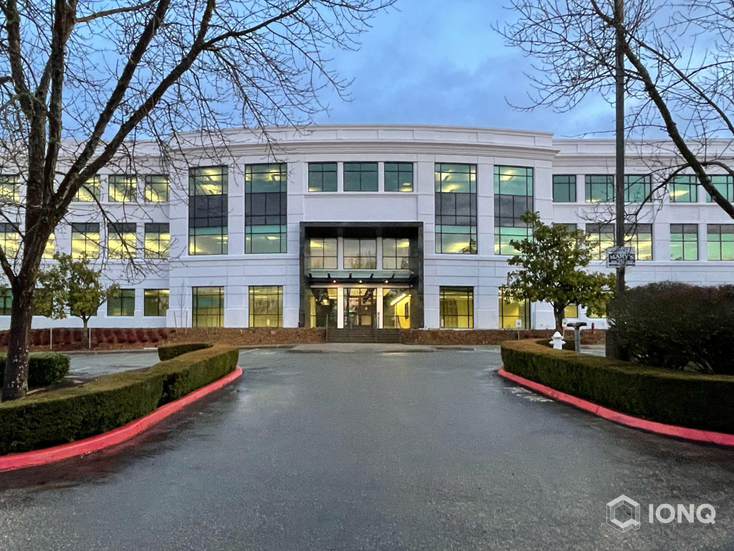 IonQ's Washington headquarters.
IonQ
IonQ has announced plans to build a manufacturing center dedicated to building its trapped-ion quantum computers in Seattle, Washington.
Ion says the facility is the first of its kind in the U.S. and its construction supports the government's CHIPS and Science Act, which aims to boost the domestic production of semiconductors.
Trapped ion quantum computing uses charged atomic particles, or ions, as qubits. These are trapped in electric fields and manipulated with lasers. Compared with other quantum technologies, the ion qubits have long coherence times, meaning the time a qubit maintains its quantum state. It is important because there is more time to detect and correct errors.
IonQ's R&D and manufacturing teams will move to the new 65,000-square-foot building in the Seattle suburb where other tech companies including Microsoft, Google, Amazon and Panasonic have sites. The site also plans to house IonQ's second quantum data center.
The move forms part of IonQ's plans to invest $1 billion through
expansion in the Pacific Northwest over the next 10 years.
"Advanced technologies like quantum computing are key to solving some of the world's most pressing challenges such as climate change, energy and transportation," said IonQ CEO and President Peter Chapman.
"The Seattle region has been a hub of tech innovation and manufacturing for decades and has the skilled workforce we need to design, build and manufacture our quantum computers. As we planned our expansion, the Seattle area was an ideal option for our new facility."
IonQ vice president of product engineering Dave Mehuys is expected to oversee the construction of the new facility. Mehuys joined IonQ from Psiquantum in March 2022.
The company's current headquarters is in College Park, Maryland. The company has not yet set an opening date for the new facility.
. last year announced that it was building a quantum nanophotonics manufacturing and research center to expand its chip development capabilities, partially financed under the CHIPS Act.
Enter Quantum Newsletter
To get the latest quantum computing news, advice and insight, sign up to our newsletter