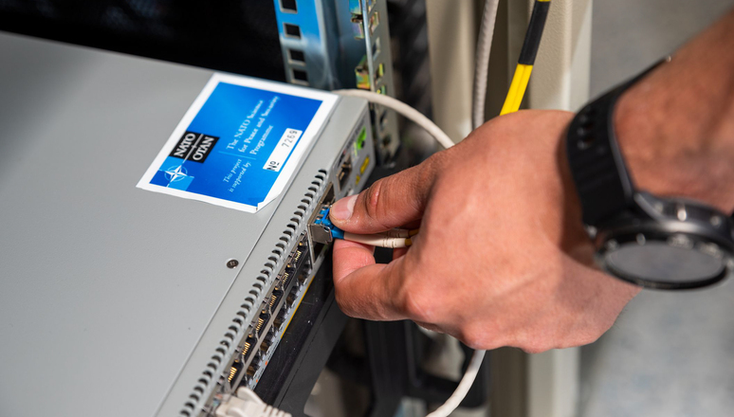 Part of the quantum key distribution setup at the Technical University of Ostrava, Czech Republic.
NATO
NATO is researching quantum computing, communications and sensing technologies through its Science for Peace and Security (SPS) program to secure data for its defense and security operations.
NATO allies approved a new Strategic Concept at the 2022 Madrid Summit, which stated that emerging and disruptive technologies (EDTs) are critical to shaping the future of the Alliance. NATO set up the SPS program to explore the potential of EDT innovations including artificial intelligence, autonomy, bioengineering and, especially, quantum technologies.
Much of the SPS quantum research to date has focused on the field of quantum communications, including the encryption and secure transmission of information using quantum key distribution (QKD) and post-quantum cryptography (PQC). These aim to mitigate the threat from near-term quantum computers and other technology that could decipher secret communication.
Post-Quantum Cryptography
SPS scientists recently demonstrated that it is possible to securely transmit
information without the possibility of decryption by a hacker, even using a quantum computer. Five research groups based in Malta, Slovakia, Spain, the U.S. and Belgium showed they could communicate using a secure PQC protocol that could not be broken.
QKD usually has a limited range over optical cables, but SPS researchers have been investigating techniques to send cryptographic keys to an endpoint located several hundred kilometers away. And NATO researchers in the Czech Republic are studying the application using QKD technology over a 5G network to explore its potential to enhance cybersecurity in future communication systems.
Outside the PQC and QKD use cases, SPS researchers are also using quantum computing and sensing to improve remote detection and measurement technologies to levels that they currently cannot achieve.
Read more about:
Quantum Newsletter
To get the latest Quantum news, research, videos and content, sign up to our newsletter