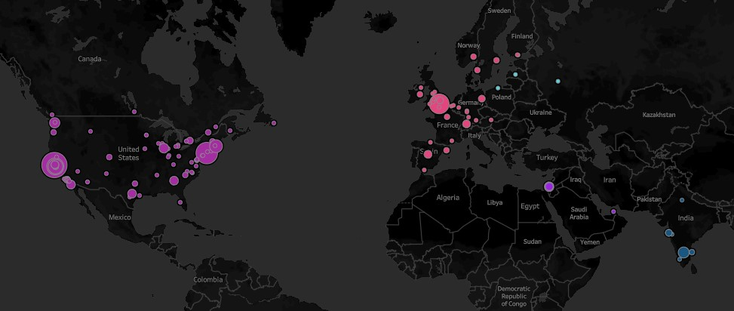 Omdia has introduced the AI Product Directory.
Omdia
Enterprise AI has reached a critical mass where adoption is becoming self-sustaining, according to the
AI Market Maturity Survey 2022
by Enter Quantum's sister research firm Omdia.
Companies said they are investing in a range of AI use cases, and they are confident that their AI models will help them achieve their business goals. Notably, most of the enterprises surveyed also said they have a dedicated AI budget.
To help businesses and organizations navigate the AI ecosystem, Omdia has introduced the
. It is a free-to-use, interactive database and visualization tool with information on more than 1,200 companies involved in AI, from Fortune 500 companies to startups.
Users can find companies by AI technology, industries served, horizontal use cases, IT category, headquarters and employee count, which can be a signal of business health and capability.
For example, clicking on 'Predictive Analytics' under Horizontal Use Cases on the dashboard shows 423 offering this service.
A companion chart further breaks it down to show 316 companies involved in machine learning, 151 in deep learning, 109 in NLP, 53 in computer vision, 10 in machine reasoning and five in strong AI. Under 'Region,' the dashboard shows that 68% of these vendors are in North America.
In this group of predictive analytics vendors, 159 companies serve the financial services industry, followed by 135 in health care and 95 in retail. Business services are next with 89. Interestingly, 40 companies serve across industries.
The database can also be explored in a list format. Sort options include company name, location, year founded, number of employees and IT category. At a glance, it can help users sort out which vendors they would or would not consider.
For example, many AI vendors are listed under the IT category of 'application-focused solutions.' The list shows companies with less than 10 employees to those with 10,000 employees and filing by employee number can help the user start to narrow down vendor choices – a tiny startup might not be able to handle a big project.
Clicking on a vendor name shows two options: company profile or company website. Choose a company profile and the user sees a snapshot of the business, including its AI offerings, use cases and even a map of its location.
For example, the profile of Boston Dynamics says it "builds advanced mobile manipulation robots with remarkable mobility, dexterity perception and agility. The company uses sensor-based controls and computation to unlock the potential of complex mechanisms."
It uses computer vision, deep learning and machine learning. Industries served are energy, manufacturing, public sector, real estate and construction, and transportation.
Horizontal use cases include "device monitoring and control, modeling and simulation, predictive analytics, quality monitoring and visual analytics. The blue dot on the map shows its headquarters in Waltham, Massachusetts.
The AI Product Directory also includes a definitions tab to elucidate categories such as hyperscalers, AI development platforms and others. Instructions and methodology are included as well. Users can customize their view and data can be shared and downloaded.
This article was first published on
.
Read more about:
Quantum Newsletter
To get the latest Quantum news, research, videos and content, sign up to our newsletter