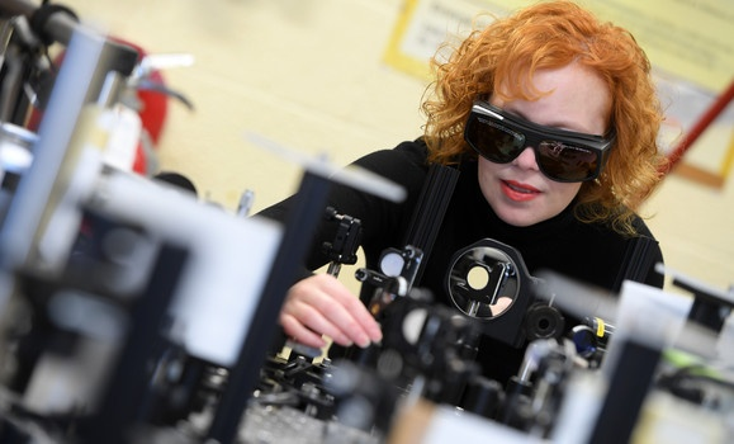 Kimberley Hall uses an ultrafast laser in her lab.
Dalhousie University (Danny Abriel)
The National Research Council of Canada (NRC) has awarded $500,000 in funding to the ultrafast quantum control group at Dalhousie University to develop solid-state quantum emitters. The NRC's quantum sensors challenge program forms part of Canada's national quantum strategy.
Solid-state quantum emitters discharge single photons, the smallest unit of energy in light, which can be used as stable qubits and to ensure secure communications. Quantum key distribution requires injecting a single photon into the optical communication channel.  
Head of the Dalhousie group Kimberley Hall directs a research group that uses quantum dots, technologies about 20,000 times smaller than a grain of sand, to develop these emitters.
"Dr. Hall's cutting-edge research will allow Canada to be at the forefront of the quantum technology that is integral to our future," said Chuck Macdonald, dean of Dalhousie University's Faculty of Science.  
"The NRC seeks out strong partners to complement the work done in our labs,"
added Aimee K. Gunther, deputy director of the quantum sensors challenge program. "Projects like this one allow researchers to share expertise, helping to position Canada as a world leader in the development of future quantum-based technologies."
Canada's research into quantum technologies has gained momentum since Hall and her group created a method that helps enhance the single photon emission technology currently used by the NRC. The discovery ensures that the expected photon is consistently emitted, a technique that enables researchers to retrieve single photons while filtering out scattered laser light. 
Dalhousie researchers are attempting to increase quantum sensors' accuracy, sensitivity, and efficiency. Improving quantum sensor technology is a critical first step toward producing applications that rely on single-photon sources.  Advances in quantum sensor technology could lead to breakthroughs in electronics manufacturing, finance and medicine. 
Enter Quantum Newsletter
To get the latest quantum computing news, advice and insight, sign up to our newsletter