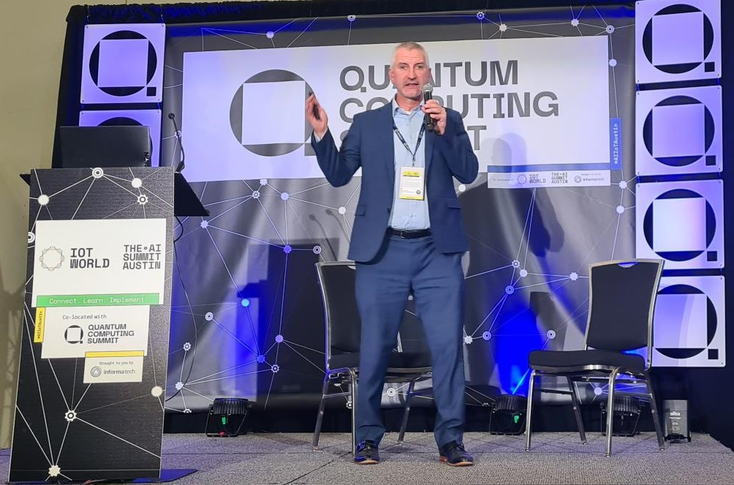 Deputy director of the AFRL's information directorate Michael Hayduk.
Informa Tech
Speaking at the Quantum Summit Austin last week, Michael Hayduk, deputy director of the U.S. Air Force Research Laboratory's (AFRL) information directorate, delivered an update on how the Air Force is using quantum technology, including quantum computing.
"While we'd like to get them in the Air Force, we're not building our own quantum computer system," Hayduk said. "We leverage this out there commercially, for a number of reasons.
"The main one being is that we can't compete with what industry is doing, so we use systems that are out there and partner with many vendors. IBM has been a great partner with us for four years now. We're hopping on the IBM Q network, and we're going to continue that relationship and we're exploring other partners as well."
Hayduk added that the AFRL had recently entered other partnerships with quantum computing companies. In September it gave a $13 million contract to IonQ for access to its trapped ion systems for quantum computing hardware research and the development
of quantum algorithms and applications.
And in October PsiQuantum announced a $23 million partnership with AFRL to develop quantum photonic chips together.
The quantum computing use cases the AFRL is investigating include optimization problems, such as the logistics of command and control and being able to move troops, weapons and supplies, which Hayduk describes as an "Amazon-like problem." Quantum chemistry simulation is another important area, and the ARFL is partnering with the U.S. Navy to get to the root of the corrosion process.
"Being able to simulate iron oxide molecules using quantum computers sounds simple, but it's really not," explained Hayduk. "The Navy has partnered with us to learn more about that and how they can apply it to their structures."
The U.S. Navy is just one of the defense partners the AFRL is working with. Others include the Air Force Institute of Technology, the Air Force Academy, Lockheed Martin and several academic institutions and national research laboratories.
"It's great that we're able to work with partners because getting more people involved at this very early stage is critical for us to be able to push the field forward and pushing," said Hayduk.
Much of the AFRL's quantum computing work takes place at the Innovare Advancement Center, which is led by the AFRL Information Directorate and Griffiss Institute. It houses two state-of-the-art quantum laboratories and a quantum algorithm development area. This enables Air Force engineers and scientists to work alongside international partners and students on placement.
Hayduk said quantum information science, timing, sensing, communications and networking are among the near-term applications the Air Forces sees for quantum technologies. Quantum computing and networking are currently further out.
Enter Quantum Newsletter
To get the latest quantum computing news, advice and insight, sign up to our newsletter