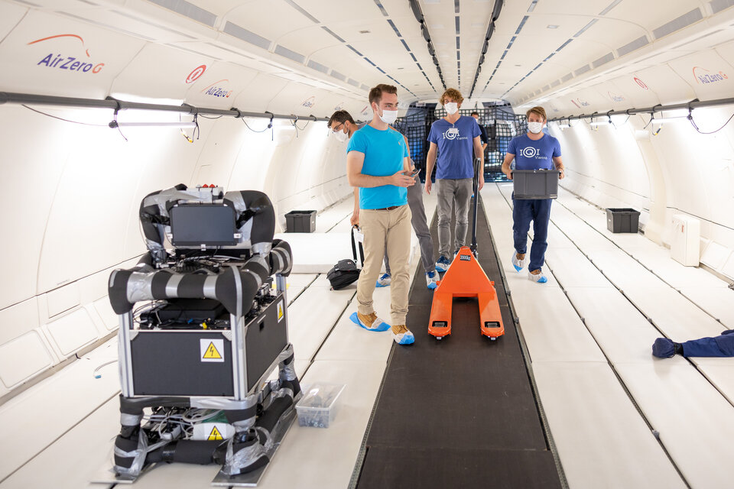 A quantum test setup was built into the Air Zero-G aircraft.
European Space Agency
Quantum computing, secure data exchange and other technologies that rely on quantum entanglement are vital to future space exploration. However, the space environment is harsh on equipment, especially the delicate hardware that some quantum systems rely on.
The European Space Agency (ESA) has tested the robustness of hardware that measures quantum entanglement on Earth to ensure that it will be able to withstand all the environments it might encounter in orbit or the depths of space.
One ESA experiment aims to study the subtle gravitational effects on a quantum system to help understand the fluctuations responsible for the large-scale structure of the Universe. Scientists initially took the equipment for this experiment on a bumpy car ride through the foothills of Vienna, carrying out sharps turns and accelerations to ensure it still worked.
When the apparatus survived this test, they dropped it from a tower at the Technical University of Dresden, Germany, then spun it in a centrifuge in Ranshofen,
Austria, subjecting it to gravitational forces of between 1,000 times less and 30 times more than normal Earth gravity.
These forces are still tiny compared with those required to make the quantum theory observations the scientists are targeting. But it did ensure the electronics and optical setup could withstand the rapid changes in speed and acceleration it encountered ahead of the next stage of the experiment, a parabolic flight conducted this year that left from Bordeaux, France.
The quantum equipment showed no ill effects from the extreme changes of acceleration that occurred during the flight, demonstrating that current technology is already robust. This is especially important for the development of future space-based applications.
"This experiment proves that the science team's apparatus for measuring quantum entanglement can hold up under extreme conditions and at different acceleration levels," said ESA physical sciences coordinator Astrid Orr.
"Quantum technology is set to be available everywhere in the future, and now we know that it could one day work in your pocket while jumping or driving a car."
Read more about:
Enter Quantum Newsletter
To get the latest quantum computing news, advice and insight, sign up to our newsletter