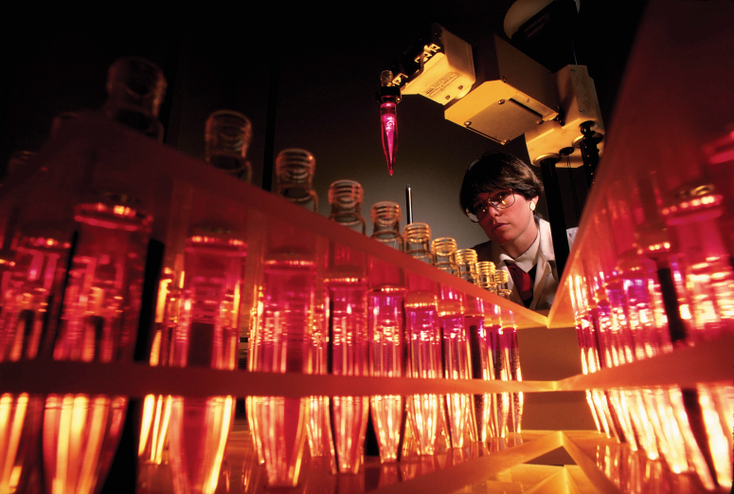 Research is one of the areas Nvidia is targeting with its hybrid quantum partnerships.
Getty
Nvidia, known for the GPU processors that power supercomputing and computer gaming, has further thrown its weight behind quantum computing. The technology multinational has announced collaborations with quantum companies IQM, Terra Quantum and Classiq, using Nvidia's CUDA Quantum open-source platform for integrating and programming quantum processing units (QPUs), GPUs and CPUs.
IQM Aims to Boost Quantum Accessibility
Quantum computer manufacturer IQM is working with Nvidia to advance future hybrid quantum applications for science and industry. The enterprises and research institutions that currently work with IQM's hardware will have access to Nvidia CUDA Quantum to develop hybrid quantum-classical applications.  
IQM aims to enable scientists and experts to access quantum-accelerated supercomputing for applications including machine learning, cybersecurity, and drug and chemical research. Research organizations including CSC - IT Centre for Science and the VTT Technical Research Centre of
Finland plan to use CUDA Quantum on VTT's 5-qubit quantum computer developed by IQM and VTT.
"The collaboration with Nvidia is a strategic step that will help accelerate the progress of potential use cases. It offers our new and existing users the option to use Nvidia's high-quality software framework to explore quantum solutions in their applications with our quantum hardware," said IQM head of strategic partnerships Peter Eder.
Terra Quantum Aims to Improve Data Analytics with Hybrid Quantum
Quantum hybrid software company Terra Quantum intends to use its collaboration with Nvidia to enhance data analytics using hybrid quantum computing to provide better performance and new insights.
Terra Quantum's applications can run on Nvidia's current high-performance computing platforms. Nvidia's CUDA Quantum platform will enable them to run on native quantum hardware in the future and support classical and quantum components to work efficiently together.
Terra Quantum aims to overcome existing limitations in processing complex data sets, offering enhanced speed, accuracy and scalability. The company is targeting improved data-driven strategies for sectors including finance, healthcare, logistics and energy.
"We are using our hybrid quantum algorithms delivered on Nvidia GPUs to deliver significant business impact today," said Terra Quantum CEO Markus Pflitsch. "This collaboration will not only accelerate this impact but also help unlock a whole new range of opportunities in the areas of machine learning and simulation while also setting a pathway for quantum computing,"
Classiq Targets Life Sciences, Heath Care
Quantum software company Classiq has founded the Quantum Computing for Life Sciences and Healthcare Center in collaboration with Nvidia and the Tel Aviv Sourasky Medical Center. The initiative aims to develop and implement quantum algorithms and applications for life sciences and healthcare.
Quantum computing can offer significant improvements in areas like drug discovery, molecular analysis and bespoke medical treatment strategies, as well as optimizing pharmaceutical supply chains and treatment coordination.
"The opportunities for quantum computing and especially the software that drives it are growing very quickly. The new Quantum Computing for Life Sciences & Healthcare Center aspires to bridge the gap between quantum theory and practice with tangible benefits in life sciences, healthcare and beyond," said Classiq CEO Nir Minerbi.
Enter Quantum Newsletter
To get the latest quantum computing news, advice and insight, sign up to our newsletter