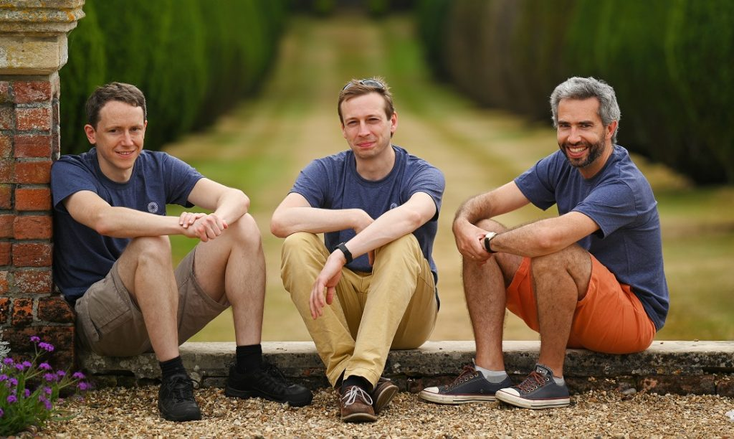 Phasecraft Founders (L-R) Ashley Montanaro (CEO), Toby Cubitt (CSO_CTO) and John Morton (Director).
Phasecraft
Quantum algorithm specialist Phasecraft has said it aims to target quantum advantage, defined as when quantum computers outperform classical computers on real-world problems, with its latest funding round.
The company closed a $16.55 million series A funding round led by Silicon Valley deep-tech venture capital company Playground Global along with AlbionVC, and existing investors Episode1, Parkwalk Advisors, LCIF and UCL Technology Fund.
The new funding brings the total raised to $22 million in venture funding, as well as a further $4.8 million in grant funding from Innovate UK and the European Research Council. 
The management team said it plans to use the funds to build its team of quantum scientists, researchers and engineers and to ultimately develop quantum algorithms to the point of practical advantage.
According to Phasecraft, while quantum hardware has advanced significantly in capacity in recent years, it is debatable whether any of the algorithms produced to date can solve a problem
of genuine, practical interest when run on a quantum computer.
It aims to address this challenge by using new insights from theoretical physics and computer science, coupled with knowledge gained from numerical simulations and a deep understanding of quantum hardware. 
Materials discovery use case
Phasecraft's achievements to date include running the largest-ever simulation of a materials system on quantum hardware and proving for the first time that near-term quantum optimization algorithms could outperform classical ones.
The company plans to focus on applying its algorithms to the discovery of new materials for the clean energy transition. It says quantum computing is better suited to this use case than classical computing because it directly models the fundamental features of these materials. This means it can derive a shortlist of candidate materials and fewer physical experiments need to be carried out.
To support this use case, Phasecraft has formed industry partnerships with specialty materials developer Johnson Matthey and solar cell developer Oxford PV. It is also partnering with three of the biggest superconducting quantum hardware providers Google, IBM and Rigetti.
"For all the advances that have been made in quantum hardware and for all quantum computing's promise, such progress could end up being for nothing if we can't build the applications needed to make the technology truly useful," said Phasecraft co-founder and CEO Ashley Montanaro. 
"With our record-breaking algorithms and groundbreaking techniques, we are pushing the boundaries of what is possible in this space. With support from such a renowned deep-tech visionary as Playground, we think practical quantum advantage is achievable in years, not decades."
Read more about:
Enter Quantum Newsletter
To get the latest quantum computing news, advice and insight, sign up to our newsletter