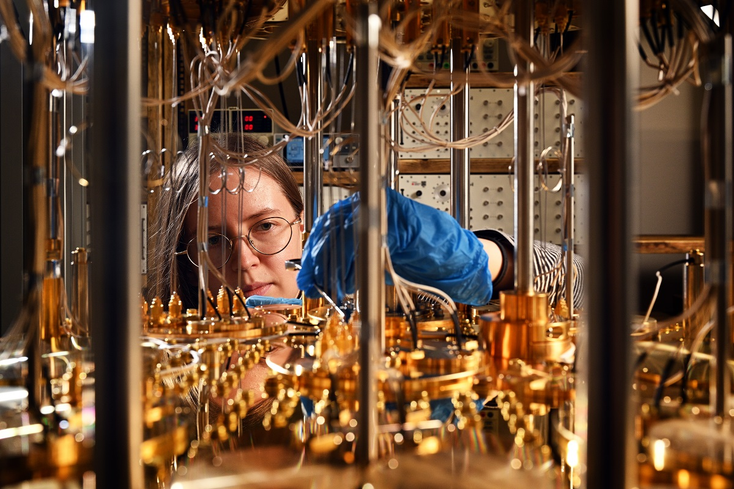 A Quantum Motion researcher works on a dilution fridge.
Quantum Motion
London-based Quantum Motion, which builds quantum computers using existing silicon transistor fabrication technology, has raised $50 million (£42 million) in equity funding.
The investment surpasses the $46 million raised by Oxford Quantum Circuits last year as the largest funding round in the history of a UK quantum startup and is considered a significant boost to the UK's quantum computing industry.
The funding came from primary investor Robert Bosch Venture Capital and other participants including Porsche SE and British Patient Capital. All the investors from earlier funding rounds are also returning.
The company plans to use the funds in part to increase the size of its team by fifty people by the beginning of 2024 and to work more closely with top-tier foundries during their validation process.
Quantum Motion is pursuing a different strategy than its competitors, using silicon transistors to create qubits. The business claims that the silicon transistors' high qubit density – a quantum
computing metric – gives its quantum technology a processing speed advantage. 
The company is working on patented silicon spin-based qubit architecture technology that will make it possible to build a reasonably sized functional, 'fault-tolerant' quantum computer at scale.
"Building a quantum computer using conventional silicon fabrication is a powerful advantage for Quantum Motion and one that has attracted interest from a collection of high-quality investors, which will help us deliver our vision," said Quantum Motion chair Alberto Sangiovanni-Vincentelli.
"I continue to back the company strongly both in my position as Chair and as an investor in the company and look forward to guiding Quantum Motion as we start the next phase in our growth."
Quantum Motion has raised $75 million in total. In April 2020, the firm raised $9.7 million in a Series A funding round led by Octopus Ventures and Oxford Scientific Enterprises, among others. 
Read more about:
Quantum Newsletter
To get the latest Quantum news, research, videos and content, sign up to our newsletter